This article is a stub. You can help the Smallville Wiki by expanding it.
Adrianne Lee Palicki (born May 6, 1983) is an American actress.
Palicki played Lindsay Harrison in the Season 3 finale "Covenant" as well as the Siren, Nadia on the Aquaman pilot.
She later had another DC Comics role as Diana Prince and her alter ego in the unaired Wonder Woman pilot of 2011.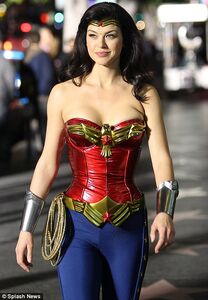 Palicki is also known as Bobbi Morse on the Marvel Comics series Agents of S.H.I.E.L.D. and previously also known for playing Tyra Collette Friday Night Lights.
Other roles
South Beach - Brianna
Supernatural - Jessica Moore
G.I. Joe: Retaliation - Jaye
Family Guy - Tiffani Thiessen in "Big Man on Hippocampus"
Robot Chicken - Rainbow Brite/Sailor Moon/Scarlett O'Hara/Birdie the Early Bird/Ms. Pac-Man
About a Boy - Dr. Samantha Lake
External links