This article is a stub. You can help the Smallville Wiki by expanding it.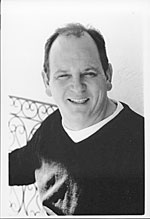 Alfred Gough, along with writing partner Miles Millar, created Smallville. From Season One to Season Seven, Alfred was one of Smallville's executive producers and wrote many episodes.
Some episodes Gough has written (usually with Millar) are:
Season One
Season Two
Season Three
Season Four
Development
In 2001, Alfred Gough and Miles Millar developed a pilot based on the film Eraser. After watching the pilot, Peter Roth, the President of Warner Bros. Television, approached the two men about developing a second pilot, based on the young Superman concept that was brought to him. After meeting with Roth, Gough and Millar decided that they didn't want to do a series where there was lots of flying, and a cape. It was here that they developed a "no tights, no flights" rule, vowing Clark Kent would not, at any point, fly or don the suit during the run of the show.
On April 3, 2008, after seven seasons with the show, Alfred Gough and Miles Millar issued a public statement that they would be leaving the show. The developers, after thanking the cast and crew for all their hard work, acknowledged that they never stopped fighting for what they saw as "their vision" of the show, and they passed the torch to the Executive Producers Kelly Souders, Brian Peterson, Todd Slavkin & Darren Swimmer.
Notes
Ad blocker interference detected!
Wikia is a free-to-use site that makes money from advertising. We have a modified experience for viewers using ad blockers

Wikia is not accessible if you've made further modifications. Remove the custom ad blocker rule(s) and the page will load as expected.