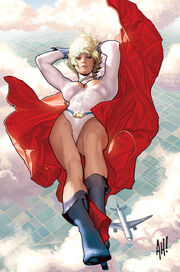 This article describes various allusions in the American television series Smallville to DC Comics character Power Girl, also known as Kara Zor-L and Karen Starr.
Although Power Girl didn't make an appearance on the series, there have been several references to the character and her universe. The notes on this page are generated by viewers and comics fans, but not necessarily verified by the show's producers or writers.
Season Two
Season Three
Season Four
Season Five
Season Six
Season Seven
Season Eight
Season Nine
Season Ten
Chloe Sullivan
Chloe is played by actress Allison Mack, who did the voice for Power Girl in the movie Superman/Batman: Public Enemies. Interestingly, there are similarities between Karen Starr/Power Girl and Chloe Sullivan. Both are short-haired blondes, as well as during the middle seasons, Chloe spots Power Girl's bob hairstyle. Both are extremely skilled when it comes to computors. Chloe's role on Smallville in later years is similar to that off Barbara Gordon (Oracle). In the comics, Power Girl was one of Oracle's first operatives, which ended badly. While being among the three female leads (along with Tess and Martha), to never gain Clark's power or possess natural Kryptonian powers (i.e. Kara Kent), she did briefly possess Kryptonian-like powers, in Legion, while she was possessed by Brainiac, during which, she wore her white wedding dress.
Trivia
Ad blocker interference detected!
Wikia is a free-to-use site that makes money from advertising. We have a modified experience for viewers using ad blockers

Wikia is not accessible if you've made further modifications. Remove the custom ad blocker rule(s) and the page will load as expected.