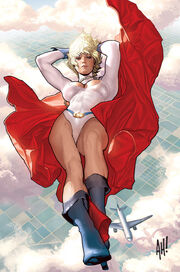 This article describes various allusions in the American television series Smallville to DC Comics character Power Girl, also known as Kara Zor-L and Karen Starr.
Although Power Girl didn't make an appearance on the series, there have been several references to the character and her universe. The notes on this page are generated by viewers and comics fans, but not necessarily verified by the show's producers or writers.
Season Two
Season Three
Season Four
Season Five
Season Seven
Season Nine
Season Ten
Trivia
Ad blocker interference detected!
Wikia is a free-to-use site that makes money from advertising. We have a modified experience for viewers using ad blockers

Wikia is not accessible if you've made further modifications. Remove the custom ad blocker rule(s) and the page will load as expected.