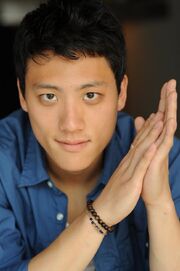 Anthony Shim is a Canadian actor and writer.
In the Smallville TV series, Shim played Daniel Kim in the Season Six episode Freak.
Other DC Comics roles he had include:
Roles
Among others, he portrayed Joey in Valentines (2008), Simon in Taken from Me: The Tiffany Rubin Story (2011), a bartender in Percy Jackson: Sea of Monsters (2013) and Jin in Star Trek Beyond (2016).
Gallery
→ see also Category:Images of Anthony Shim
External links
Ad blocker interference detected!
Wikia is a free-to-use site that makes money from advertising. We have a modified experience for viewers using ad blockers

Wikia is not accessible if you've made further modifications. Remove the custom ad blocker rule(s) and the page will load as expected.