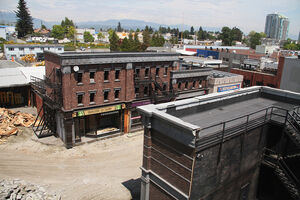 BB Studios is a set localizated in Burnaby, British Columbia in Canada, and has been used for filming scenes of Metropolis in Smallville. Actually, is being used to filming many scenes of Arrow, another DC superhero show shown on The CW, based on Green Arrow comics.
Coordinates: 49°12'58"N 122°58'24"W
Nearby cities: Edmonton, Alberta, Calgary, Alberta, Maple Ridge
Gallery
Ad blocker interference detected!
Wikia is a free-to-use site that makes money from advertising. We have a modified experience for viewers using ad blockers

Wikia is not accessible if you've made further modifications. Remove the custom ad blocker rule(s) and the page will load as expected.