Blue kryptonite
Talk

15
1,761pages on
this wiki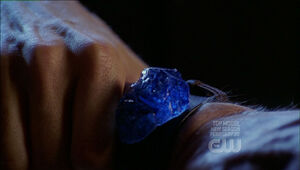 Blue kryptonite is a radioactive mineral from the planet Krypton that, while a Kryptonian is in close proximity, temporarily and painlessly removes the powers and abilities that Kryptonians receive under a yellow sun.
After the meteor shower, blue kryptonite has been found in relatively abundant quantities on Earth and has been discovered to possess the capability to affect humans.
Appearance
Edit
Blue kryptonite throughout the series has taken the form of a gemstone and a chunk of blue crystal. Similar to the other forms of Kryptonite, Blue K glows in the presence of a Kryptonian. The mineral has appeared to be one of the rarer forms of Kryptonite found only in deposits on the outskirts of Smallville (Dax-Ur kept a supply of Blue kryptonite likely left over from his experiments on the properties of Kryptonian minerals).
Powers and Abilities
Edit
Effect on Kryptonians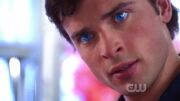 Blue kryptonite suppresses Kryptonians' power and abilities under a yellow sun, making them essentially human or more specifically reverting them to their powerless native Kryptonian state and without any superpowers although, in contrast to the crippling effects of Green kryptonite, the process is painless. It is however unlikely that the mineral alters Kryptonian DNA but more affects their ability to access solar energy reserves whilst allowing them to retain their alien physiology. The "range" of the radiation appears similar if not identical to that of its green counterpart.
The eyes of a Kryptonian experiencing its effects for the first time appear to glow blue briefly after exposure.[citation needed]
When part of a bullet, blue kryptonite can also temporarily suppress a Kryptonian's invulnerability long enough to leave a tracking code on his or her skin. (Shield)
As a result, Kryptonians under the influence of blue kryptonite are immune to the crippling effects of green kryptonite radiation. (Blue)
Despite the fact that this stone removes their abilities, Clark has proven on numerous occasions to have retained some body resistance while under its influence (one could attribute this to his naturally high-density Kryptonian physiology). (Persona, Lazarus, and Harvest)
Blue kryptonite is one of the few variants of Kryptonite that has beneficial effects on humans and Kryptonians (rendering Kryptonians immune to Green kryptonite and enhancing the health of humans).
Effect on Bizarro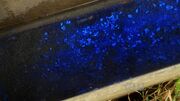 Blue kryptonite has the opposite effect on Bizarro; reflecting the inverted nature of his body's ability to process energy, rather than removing his powers, it overloads his body with power, causing him to explode. This process has been compared to attempting to power a lightbulb with a nuclear reactor.
Effect on humans and environments
It also purifies water and makes crops grow even in the harshest of environments and humans, by ingesting it, become perfectly healthy, giving off its radiation, implying that it purges toxins and diseases (A sheriff said it was responsible for him not contracting any illness during his childhood).
Vulnerabilities
Edit
The effects of the blue kryptonite are controlled by proximity, just like other types of kryptonite. Its powers will fade away if the Kryptonian is at a certain distance of it, or if it is stored inside of a lead box.
In the case of jewelry, it needs to be worn.
Unlike Gold kryptonite, the effects of blue kryptonite persist only while the person is exposed to it.
Early History
Edit
Blue kryptonite was present on Krypton even prior to its destruction (Jor-El had a large Blue kryptonite crystal for use in his experiments). A small town outside of Metropolis was hit with a few meteors from the first meteor shower, with the shower that hit them including blue kryptonite (this has been the only definitively proven source of this variant of kryptonite). For 20 years, the town people used it to make their water fresher and make their crops grow, but they assumed that the health was due to a tradition of human sacrifice- practised after the daughter of Reverend Joseph Cavanagh was killed during the shower- rather than the kryptonite.
Season Seven
Edit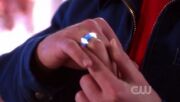 After activating the blue crystal in the Fortress console, it created an exact duplicate of Lara-El and Zor-El.
Lara gave Clark his father's victory ring, which had blue kryptonite. Unknown to Clark, once he put it on it stripped him of his powers, part of a plan orchestrated by Zor-El. Only by destroying the crystal did he manage to get rid of the ring, but he also unwillingly destroyed the clones of his mother and uncle in the process.
Another instance was when Clark asked Lionel (who was really Brainiac in disguise) for a way to stop Bizarro, and he suggested he use the blue kryptonite, as it would destroy Bizarro from an overload of power (Due to Bizarro's 'inverted' nature, where his body was strengthened by green kryptonite and weakened by sunlight, the blue kryptonite that rendered Clark powerless would overload Bizarro's body).
Lionel tells him to find Dax-Ur, using the Kryptonian shield he found and after meeting with Dax-Ur, who showed him a bracelet made ​​of blue kryptonite that he was wearing to live a normal life, Clark obtained a piece of blue kryptonite and faced Bizarro. During their confrontation, Lana used the kryptonite to destroy the last phantom.
Season Nine
Edit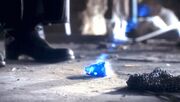 A Kryptonian soldier time-traveled back from the future with Lois to assassinate Kal-El. Kal-El and the soldier later battled and she used the blue kryptonite to make them both mortal-like so she could kill him with her sword, which she wouldn't have been able to if he had his powers.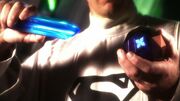 It is revealed that when Jor-El was forced to create the Orb and include the DNA of Kryptonian soldiers, he radiated the Orb with blue kryptonite radiation, making all of the clones powerless, so that they could not rule Earth under a yellow sun.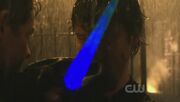 Zod made a blue kryptonite knife in order to prevent himself from being transported to a new world with the rest of the Kandorians. During a brutal fight between Zod and Clark, Clark stabbed himself with the knife and fell off the tall building where they were fighting, thus taking away the influence of the blue kryptonite on Zod. Zod's powers returned and he was transported to the new world to join the rest of the Kryptonian clones.
Season Ten
Edit
After sending the Kandorians away, Clark still fell to his death with the blue kryptonite dagger in his abdomen, but Lois saw him fall and tried to revive him but was unsuccessful then noticed the dagger and pulled it out of Clark's body and threw it a great distance away from him. The sun rose and Clark healed.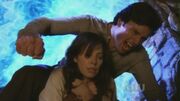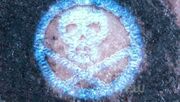 When Clark came near any of the townspeople affected by blue kryptonite (or their water), he would lose his powers, the villagers' bodies having been infused with blue kryptonite energy due to their long exposure to it. Clark was burned by blue kryptonite infused fire trying to save Lois, but the shock of seeing him withstand the fire prompted the townspeople to back away from him, the distance being enough to allow his body to heal from the damage sustained.
Clark was marked with a blue kryptonite tattoo by Deadshot's bullet. Later, Emil Hamilton removed the tattoo.
Alternate Realities
Edit
Season Ten (Earth-2);
In a parallel universe where Clark was raised as the adopted son of Lionel Luthor, he and Lionel had sword practice in which the swords were tipped with blue kryptonite.
Appearances
Edit
In the Comics
Edit
Blue kryptonite is the Bizarro analogue to green kryptonite. Using Bizarro logic, this, in general, hurts Bizarros while having beneficial effects on ordinary Kryptonians. Pre-Crisis, blue kryptonite is the result of using Professor Potter's "duplicator ray" on some green kryptonite. Here, blue kryptonite affects Bizarros like green kryptonite affects Kryptonians. Blue Kryptonite radiation is not blocked by normal lead, but by imperfectly duplicated lead. Bizarro World, a sentient planet, had animated Blue Kryptonite golems underground that surfaced and attacked the Super-Powered Bizarros while the delighted non-powered bizarros cheered them on. When Jimmy Olsen had his mind turned to that of a Bizarro, Exposure to Blue Kryptonite radiation turned his mind back to normal. In an episode of Super Friends, blue kryptonite heals Superman from the effects of red kryptonite. Post-Crisis, its origin is unknown. Here, blue kryptonite makes Bizarros become polite, goodhearted, coherent, and intelligent. It also causes physical pain much like green kryptonite affects Superman. In the Direct-To-DVD movie, Justice League: Crisis on Two Earths, Blue Kryptonite harms Ultraman (Superman's criminal counterpart in an alternate reality) in the same manner that Green Kryptonite harms Superman.
Blue kryptonite has also been used in Superman video games as a life restorative due to its "Bizarro" nature. [citation needed]