Brent was a student at Smallville High School.
Season One
During the geology field trip looking for a specific list of rocks. Eric Summers, a shy, quiet boy, offered to help Holly find a meteor rock, but Brent threatened to knock him into the next county.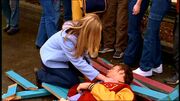 Later after Eric got Clark's powers, Eric asked Holly on a date. When Brent told him off, Eric started to terrorize him and threatened to crush him with a truck. When Clark tried to stop him, Eric threw him several feet. He landed on the top of the car, unconscious. Horrified, Holly told Eric to get away, and called him a freak.
Ad blocker interference detected!
Wikia is a free-to-use site that makes money from advertising. We have a modified experience for viewers using ad blockers

Wikia is not accessible if you've made further modifications. Remove the custom ad blocker rule(s) and the page will load as expected.