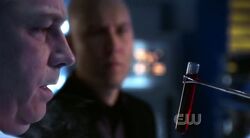 With the use of their power and money, Lionel and Lex Luthor have been able to employ dozens of members of the medical and educational community to further their various questionable research experiments and projects.
To be fair, not all of the doctors listed are "evil" per se- most of them were probably just doing what they had been paid to do. Some of the doctors even had a change of heart and attempted to back out of their assignments, but were almost always murdered for their refusal to cooperate. Some of these professionals were killed by their experiments, but very few of them have had to face any legal or judicial consequences of their machinations.
Pages in category "Evil doctors"
The following 37 pages are in this category, out of 37 total.
A

B

C

D

F

G

H

J

K

L

M

S

T

V

W
Media in category "Evil doctors"
The following 24 files are in this category, out of 24 total.
Ad blocker interference detected!
Wikia is a free-to-use site that makes money from advertising. We have a modified experience for viewers using ad blockers

Wikia is not accessible if you've made further modifications. Remove the custom ad blocker rule(s) and the page will load as expected.