This article is a stub. You can help the Smallville Wiki by expanding it.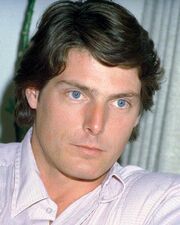 Christopher D'Olier Reeve
(September 25, 1952 – October 10, 2004) was an American actor most famous for playing
Superman
in
Superman: The Movie
and its three sequels. He also portrayed
Dr. Virgil Swann
in
Season Two
and
Season Three
of
Smallville
.
His body became completely paralyzed after falling off a horse in 1995, but he remained on the set until his scenes were completed.
In the season 2 DVD extras, the producers mention that they wanted to get Reeve into Smallville for a long time and wanted a perfect character for him; they think his portrayal of Virgil Swann makes for a great "passing the torch" moment.
Trivia
Christopher Reeve studied acting at Juilliard. James Marsters (Brainiac) and Sam Witwer were also students at Juilliard.
Public Service Announcements
Prior to his death, Christopher Reeve along with Tom Welling gave a public service announcement for the Christopher and Dana Reeve Foundation to fight paralysis on a few occasions, for example in the episodes Rosetta and Legacy.
After his death in 2004, Annette O'Toole, Erica Durance and Dean Cain also gave public service announcements in the respective episodes; Aqua, Progeny, and Cure. Since Reeve's death, the Superman tags featuring the Superman S-Shield logo and the foundation's motto, "Go Forward." have been available.
Video
External links
Ad blocker interference detected!
Wikia is a free-to-use site that makes money from advertising. We have a modified experience for viewers using ad blockers

Wikia is not accessible if you've made further modifications. Remove the custom ad blocker rule(s) and the page will load as expected.