The relationship between Clark, Lana and Lex has been a very complicated one that was the center of the show for the first eight seasons.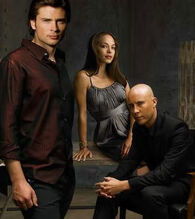 Season One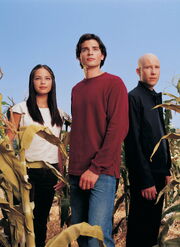 Clark had his eyes on Lana Lang since they were extremely young. However, he couldn't even go near her, due to her meteor rock necklace. After Clark and Lex became friends, Lex gave him many tips on wooing his girl next door, but Clark often failed to act on these tips. Lex repeatedly try to get Clark and Lana together, even though he knew full well Lana was with Whitney because he did not believe Whitney was worthy of her. At one point, he invited both Clark and Lana to an event, but "forgot" to mention the other was going.
Lex and Lana soon built up a relationship when Lana asked Lex to go into business with her to run the Talon.
Season Two
Lex and Lana spent more time together after they became business partners. Clark and Lana also became closer when Whitney left Smallville. However, neither Lex nor Clark moved their relationship with Lana on to the next level, until Clark's birthday when Lana kissed Clark. However, this was very short-lived and they had an on-off relationship for the next year. At this point, Lex still seemed to be encouraging Clark and Lana's relationship, due to his close friendship with Clark.
Season Three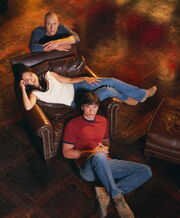 Clark and Lana's on-off relationship began to take its toll on Lana and she confided in Lex when she began to lose faith that Clark would ever open up to her. Lex showed concern for Lana's feelings, although he seemed to discourage her from pursuing a relationship with Clark, suggesting that people rarely change. When Lana told Clark that she had discussed their relationship with Lex, he was surprised and seemed a little angry, as he had just had an argument with Lex when Clark thought he was still researching him. As Clark's trust in Lex faded, Lana's trust in Lex grew and she believed that Lex had Lana and Clark's best interests at heart.
Clark and Lex's relationship broke down when Clark discovered Lex's obsession with trying to discover his secret. As soon as this happened, Lex started to build on his relationship with Lana and goes to say goodbye at the airport after Clark forgot to take her there. Clark saw them hug each other and jealousy and disappointment made him super-speed away without saying goodbye to Lana.
Season Four
Clark's relationship with Lana was more restricted this season, as Lana returned from Paris with a boyfriend.
Eventually, it was shown in Onyx that Lex was harboring suppressed feelings for Lana, when his evil side hits on Lana after he is split in two by Black kryptonite. When he returned to normal he went back to hiding his feelings, as he was trying to patch things up with Clark. His loyalty at this point was still to Clark. However, Lex got Jason fired after he discovered his relationship with Lana. It is not known if this was an act of jealousy or morality.
Towards the end of this season Clark and Lana became closer after her relationship with Jason broke down. Clark and Lana declare their love for each other before the second meteor shower. However, she still has a close relationship with Lex, who is very protective of her. He threatens his father after he sends Genevieve Teague after Lana to get one of the Stones of Power, as he is deeply concerned for her safety. He then helps Lana cover up Genevieve's murder.
Season Five
Finally, Clark and Lana were able to have a proper relationship this season, which even resulted in a marriage proposal, before Clark changed time. They consummated their relationship, however, everything did not run smoothly in their relationship, as Clark was still keeping his powers secret from her. Lana initially felt that she could disregard this even when Clark was resurrected after he was shot. She even defended him against Lex, who tried to investigate Clark's miraculous recovery by asking his doctors for his medical files. Lana was furious with Lex and tried to prove that Clark's test results were normal, but Lex remained suspicious.
As Lex's investigation into Clark had cost him their friendship, when Clark discovered that Lex was responsible for releasing three meteor freak criminals to test Clark's abilities, Lex could see the same would happen with Lana if he pursued the investigation, so Lex put it to the back of his mind and focused on researching the second meteor shower. Lex requested Lana's help with this and they became partners to discover the truth, although this was kept secret from Clark. As they spent more time together, Lex's feelings for Lana grew and, as his relationship with Clark had broken down completely, he had no loyalty left for Clark and so began to act on his feelings for Lana.
Their secret investigation put Lana in harms way when two police officers threatened to kill Lana if Lex did not reveal where the Black Ship was. Lex remained protective of her and risked his life to save her, getting shot in the process. While he laid in his panic room bleeding to death with Lana, he confided in her that he wished he was more like Clark, even admiring Clark's hair. Lex and Lana's relationship continued to grow from then on, which concerned Clark. When Clark saw them hugging in the hospital, he was shocked how close they were and left without speaking.
Initially, Lana rejected Lex's advances. However, Lex hired a hypnotist to split Clark and Lana up and discover Clark's secret. Although this did not expose Clark's secret, the plan was successful in splitting Clark and Lana up. Despite separating, Clark still loved Lana and claimed that the separation was to protect Lana from the pain of being lied to. Once they had separated, it didn't take Lex long to make his move. On the rebound, Lana started a relationship with Lex, as he had shown that he was more dependable than Clark throughout the season. This is something that had worried Clark, as seen in one of his paranoid delusions after exposure to Silver kryptonite. Despite Lana's previous claim that she could never love Lex, their relationship progressed at an alarming rate.
Lana was drawn closer to Lex when she believed that he had saved her life after Graham Garrett attacked them. However, in actual fact it was Clark that had saved both of them, despite being angry with them for not telling him about their relationship. Lex had encouraged Lana to tell Clark, but Clark had already seen them kissing, which he found difficult to deal with.
After Clark finally discovered that Lex and Lana were in a relationship, he regretted letting her go, but he saw no way back for them from that point. Nevertheless, Clark was still concerned for Lex when he discovered his involvement with Milton Fine. Lana arrived at her dorm room to find Clark rifling through her things, which made her extremely angry, but he insisted that he was doing this to help Lex and urged her to reveal where his lab was. When she did, Clark arrived there after Fine had attacked Lex. Seeing that he was alive, although injured, Clark decided not to help, indicating a shift in their relationship. Although Clark didn't want Lex to be killed, he did not necessarily want to spare him pain.
Lex and Lana's relationship progressed quickly and she was very protective of him. She went out of her way to show her commitment by managing to get to the rooftop of LuthorCorp where she and Lex had agreed to meet, despite the riots of Dark Thursday. However, Lex had been possessed by General Zod.
Season Six
Despite Clark and Lex's friendship being obliterated, when Lex was possessed by General Zod, Clark went out of his way to do anything that wouldn't kill him, even though Jor-El insisted it was the only way. This was more to do with Clark valuing all human life, rather than a sign that he still likes Lex. Oddly, Lana was more amenable to the idea of sacrificing Lex to kill Zod. Nevertheless, Clark was able to save Lex and defeat Zod.
After the riots ended, Lana moved into the Luthor Mansion. Lex was later kidnapped and Lionel begged Clark to rescue him, though Clark said they didn't have much to do with each other anymore. Nevertheless, when Lana was also kidnapped, Clark made an effort to rescue them.
Lex and Lana consummated their relationship and Lana soon discovered that she was pregnant. This led to Lex proposing to Lana, but she didn't reply immediately and admitted to Chloe that she still loved Clark. Linda Lake overheard this and printed it in the Daily Planet, which gave Clark hope that their relationship could still be salvaged. This made Lex very defensive of Lana and, when Clark tried to see her, Lex lied and said she wasn't there. Lex was clearly jealous of the feelings that he knew Lana still had for Clark and was keen to push her into making a decision. When Clark discovered that Lana was pregnant, he gave up all hope of a reconciliation, which led Lana to accepting Lex's proposal.
Clark was deeply troubled by Lex and Lana's relationship, as he knew how dangerous Lex was and didn't want Lana to get hurt. His deeper feelings were exposed when Red kryptonite infected Clark and he went on a jealous rampage, crashing Lex and Lana's engagement dinner. He told Lana not to marry Lex but marry him instead. He suggested that to Lex she is just a trophy, and that Lex is nothing more than her consolation prize for not being with him. Lana was angry that Clark had only decided to act on his feelings now rather than using all the other opportunities that Lana had given him. Lex came to save Lana from Clark and stabbed him with a chisel, which Lana later found bent on the floor.
Despite kidnapping Lana, Clark and Lana's relationship was quickly repaired when he saved her from an obessessed security guard. Lana's closeness to Clark was mainly due to her heightened intrigue over Clark's secret, but she also claimed to feel safer at the Kent Farm. Lex found this hard to believe, considering recent events, but nevertheless invited Clark to the wedding to let him see what he lost. Considering Lex had once been so kind and generous to Clark this is a very cruel act, signifying a deep change in their relationship.
On the day of the wedding, Clark tried to convince Lana not to marry Lex, which she was already having second thoughts about after discovering Clark's secret. However, Lionel threatened to kill Clark if she didn't honor the promise she made to Lex. Out of love for Clark she went through with the wedding. Shortly afterwards, she had a miscarriage, making her regret her decision even more. A week later, Clark rushed Lana to the hospital after she was attacked by a meteor-freak controlled by Moira Sullivan to kill Lex. Clark tried to get her to reveal the real reason she married Lex, but Lana's fear of Lionel's threat prevents her from revealing the truth. At the hospital, Lana was told by the doctor that she was never really pregnant, instead informing her that Lex had been giving her synthetic hormones. Lana was horrified but did not reveal to Lex that she knew what he did and instead started to develop a plan to fake her death and implicate Lex in her supposed murder.
Lex was clearly desperate to be with Lana, which stems from him wanting everything Clark has ever had and believing that Lana's Light can save him from his own darkness. Their entire relationship had been created through manipulation from the point where Lex extorted a hypnotist to using the synthetic hormones. He even went as far as murdering Dr. Langston to cover up his plan to make Lana believe she was pregnant.
Clark and Lex were involved in a cave-in, which trapped Clark and Lex in a set of underground tunnels and buried Clark under meteor rocks. Clark questions if he and Lex were ever really friends but Lex came to his rescue. Lana, believing that Lex is trapped down there alone, did not help the emergency services with their rescue mission despite having plans of the tunnel system. However, when she discovered that Clark was down there too she quickly acted to save the man she loved. This moment shows that her allegiance has changed.
Before putting her vengeful plan into action, Lana met Clark at his barn and told him she was leaving Lex, and Smallville, to escape. Clark told her his secret in an attempt to get her to stay, but she only kissed him and admitted that she had known for a while. She then went to Lex to tell him that she was leaving him and that she had always loved Clark and always will. Lex slapped her across the face and considered forcibly making her stay, but quickly thought better of it and let her go. Lionel later witnessed Lana getting into her car and saw it explode. When he told Clark that Lana was dead, Clark reacted violently and searched for Lex. When he found him he accused him of murder and shortly afterwards Lex was arrested.
Season Seven
Lex quickly discovered that Lana was still alive, when he realized that a clone that he made of Lana was missing. He tracked her to Shanghai. Despite having the opportunity to kill Lex, she realized that she couldn't go through with it and decided to return to Smallville to be with Clark. Feeling guilty for what he put Lana through, Lex agreed to leave her alone but insisted that his actions had been out of love.
Clark couldn't believe it when he learned that Lana was alive and they quickly reconciled and started a fully committed relationship. However, this time Lana was the one with the secret, as she opened the Isis Foundation as a cover to spy on Lex. Lex told Clark that Lana had stolen ten million dollars from him. Clark confronted Lana about this later, but Lana told Clark the truth, that it was part of the divorce settlement and Lex was just trying to destroy their relationship.
Lana was still keen to get her revenge and when some of Clark's powers were temporarily transferred to her via electricity, she attacked Lex. He claimed that she still had feelings for him otherwise she wouldn't even bother spying on him. Lana ultimately decided to abandon her obsession with Lex and concentrate on her relationship with Clark.
When Lex was shot in Detroit whilst trying to save Kara, Clark entered Lex's mind via Project Intercept to retrieve information of Kara's whereabouts. While in his mind, it was clear that Lex still had feelings for Lana and in a bid to hurt Clark, he forced Clark to watch a deceptive memory of him having sex with Lana, which implies that the memory was just an illusion created by Lex.
When Lana was attacked by Brainiac and put into a coma, Lex tried to help by getting a team of specialists to treat her, despite a very messy divorce. He asked Clark if he knew anything about her condition. Torn between his love for Lana and the need to protect his secret from Lex, he said nothing. Lana finally recovered when Brainiac was defeated, however she was kidnapped by Tess Mercer, who obeyed Lex's orders to coerce Lana into giving Clark a "Dear John" DVD breaking up with him. Lana had managed to escape, and went into hiding for an unknown period of time.
Season Eight
Lana spent a long time away from Smallville, but finally returned for Chloe and Jimmy's wedding. It wasn't long before Clark was battling with his feelings for Lana again, as he was slowly falling in love with Lois Lane. When Lana got superpowers from the Prometheus suit stolen from Lex, they were finally on an even playing field and they started up their relationship again.
This was short-lived, as Lex returned after being seriously wounded when the Fortress of Solitude collapsed on him. Lex set up a kryptonite bomb, with Winslow Schott's assistance, on the roof of the Daily Planet, with the only way to stop it being for Lana's suit to absorb all the kryptonite. After this, Clark could never be near Lana again without being weakened by the massive amounts of kryptonite. This was Lex's ultimate revenge: if he couldn't be with Lana he didn't want Clark to, especially as he thought he was a danger to the world ever since he discovered Clark's secret. Clark tried to get revenge on Lex by killing him but Lana stopped him. Nevertheless, Oliver Queen murdered him in an explosion.
Notes
Before Michael Rosenbaum and Kristin Kreuk left the show, Clark, Lana and Lex were often described as Smallville's "Top Three", with stories being mainly centered around the three of them while secondary characters (Chloe Sullivan, Pete Ross, etc.) were mainly seen as their backup. [citation needed]
In the Superman mythology the actual "Big Three" are Clark Kent/Superman, Lois Lane and Lex Luthor. Lex is obsessively in love with Lois Lane not Lana Lang. Before Superman's public debut in Metropolis, Lois dated Lex briefly, however once The Man of Steel made his debut, Lois dumped Lex who didn't take kindly to this and tried many times to win the affection she once had him for back especially when word got out that Lois was madly in love with her Daily Planet partner Clark Kent.
In the TV series Lois and Clark: The New Adventures Of Superman, there was a love triangle between Clark Kent/Superman, Lois Lane, and Lex Luthor.