"Maybe my destiny is more than just secretly saving people. Maybe it's also to give people hope. Someone to believe in." - Clark Kent, Identity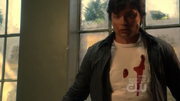 After four weeks of being missing, it was revealed that a powerless Clark was captured by Russians and forced to do manual labor. He was rescued by Oliver Queen who revealed that he knew where Chloe probably was. Despite having no powers, Clark insisted they rescue her and after Oliver fell victim to a mind-control serum and shot Clark in the chest, the Martian Manhunter appeared and flew Clark to the sun. He woke up fully healed and realized that he had been holding onto a life on the farm that no longer existed and decided to apply for a position at the Daily Planet and was hired as a reporter/copy-boy.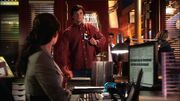 On his first day at the Daily Planet, a bus exploded outside of the building that morning and Clark quickly began helping the victims, including his new boss, Tess Mercer, who was now in charge of all of Lex's possessions and assets. Clark and Lois investigated the explosion and met Davis Bloome and a young metahuman girl named Bette, who stayed with Chloe for a while. After Clark realized Bette was responsible for the explosion, he saved Chloe from her and later congratulates Chloe about her engagement.
As Clark continued with his new life away from his hometown, he helped a poisoned Oliver Queen to find a cure for his state and learned about Chloe´s new ability to read and process information. Clark was worried about it, but Chloe decided to see it as a gift.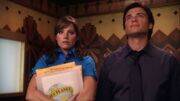 When an alien queen came to Earth in search of her soul-mate and starts to kill people in her quest, Clark confronted her and she kissed him, entrancing Clark. After Lois caught them making out in the elevator, Maxima goes after her, concluding that Clark is attracted to Lois, proof of which is him being able to break away from her spell upon seeing Lois. Clark rescues Lois. Maxima told Clark he would be lonely forever but Clark banished her back to her planet.
After Chloe and Jimmy went missing after their engagement party, Clark and Lois investigate the case and Lois suggested they pose as a happy couple to lure the kidnapper. Clark played along but finally left Lois alone to investigate on his own and when Chloe and Jimmy were returned safely, Clark learned that Lois has been kidnapped. Clark goes to her rescue, but the kidnapper holds the two hostage and forced Lois to admit that she loved Clark with a lie detector. After Clark saves the day, Lois was embarrassed by her confession. Clark being aware of this behaved like a gentleman by telling Lois she was such a good liar that she was able to trick the lie detector. Lois jumped on this opportunity and claimed she slipped the sensor off of her finger, leaving Clark to wonder if she was telling the truth or not.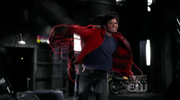 Clark began obsessively tracking bandits over all Metropolis and when a serial killer threatened the city, he discovered that Davis Bloome was frequently at the crime scene. He questioned him but Davis maintained his innocence. After Clark considered the killer was a meteor freak, Chloe became angry and they argued over Clark's assumption that all metahumans are dangerous. After solving the case, John Jones warned Clark to be more discreet when saving people.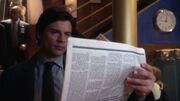 After Jimmy took a photograph of Clark super-speeding, he realized that Clark was indeed the city savior, but Clark enlisted Oliver and Chloe to help fool Jimmy into thinking he was mistaken. After Clark saved Lois from a hit-man sent to her by Tess, Chloe told Clark that he should consider adopting a secret identity, especially after the newspaper published an article on the new vigilante of the city : the Red-Blue Blur.
On the day that Lois decided to accept Clark's offer to stay in the farm, he received a mysterious package containing his missing Crystal of Knowledge, which sent them into the Phantom Zone. There, Clark finds Kara after many months and the two worked together to sent Lois back to Earth. Erroneously, they also unleashed the wife of General Zod Faora, who inhabited Lois' body and began to riot in the city while searching for his son. After Chloe return Clark and Kara to earth using his Brainiac abilities, they save Lois and banish Faora. Kara says goodbye to Clark and departed in search of her own destiny. Oliver then warned Clark about Chloe´s recent behavior.
After Chloe began to experience severe amnesia, Clark rebuilt the Fortress of Solitude to ask Jor-El to heal her. Thinking that the knowledge of his secret had ruined Chloe´s life, Clark was willing to sacrifice Chloe's knowledge of his abilities for her own safety. Clark pleads with Jor-El to help her and asked that Chloe not remember any memories of his true origins or Krypton. Chloe was seemingly restored to full health, but Clark instantly realized that he had lost a closeness between them. After that, Jor-El warned Clark about a Kryptonian creature that was coming for him.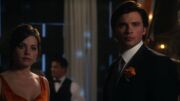 Clark made it a priority to make Chloe's wedding day perfect and walking her down the aisle. When Oliver approached him the day of the wedding and told him that he thought Lex Luthor was alive, Clark was not willing to let Chloe down to go catch Lex. Clark, having grown closer to Lois, found himself an opportunity to offer her a dance during Chloe's wedding. Just as they were about to share a kiss, they were interrupted by the return of Lana.
When a beast crashed into the wedding, injuring Jimmy and kidnapping Chloe, Clark was desperate to get his friend back.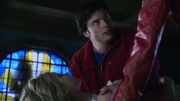 In his search, Clark was assaulted by an armored figure which was able to wound Clark but was rescued by three heroes from the 31st century who call themselves the Legion of Super-Heroes. They informed Clark about his legacy in history and tell him the way to stop Brainiac, who now has inhabited Chloe. The Legion was prepared to sacrifice Chloe to destroy Brainiac but Clark convinced them to work together and save her. After Brainiac was extracted from her, the Legion returned to the future and Chloe fully recovered her memories of Clark's secret.
After Lana returns, Clark continued his duties at the Daily Planet and around Metropolis. He helped Oliver investigate the shooting of John Jones and went undercover to expose corrupted police officers. Thinking he could balance his hero duties with happiness, he rekindled his relationship with Lana while she was in town, however, when she turned up missing, Clark investigated and learned that Lana had been forced to leave town by Lex and had returned to take revenge on him.
When Lana obtained superpowers after stealing Lex´s Project Prometheus, Clark saw it as an opportunity to have an equal partner who would help him help others.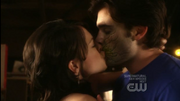 As he and Lana investigated the deaths of the LuthorCorp Board of Directors, they deduced Lex was responsible and tried to locate him. Clark and Lana learned that her power suit allowed her to absorb kryptonite radiation and when they tracked Lex on the top of the Daily Planet building, they discovered a kryptonite bomb threatening the entire city. Lana was forced to absorb the kryptonite to diffuse the bomb, but that made her unable to go near Clark. Clark went to kill Lex but Lana stopped him and later announced she was leaving for good. They shared a last kiss before she left town.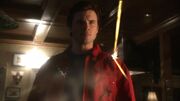 After Lana's departure, Clark threw himself into his hero work but when he was approached by Linda Lake who threatened to expose his secret to the Earth, Clark revealed his secret on his own. After realizing that was a mistake get out to public eye without considering the consequences, he used the Legion ring to reset the day and keep his secret intact. He also used this as an opportunity to mend his relationship with Lois by making sure he picked her up from the airport.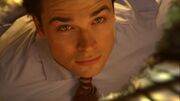 Clark began making himself more visible as the Red-Blue Blur, believing the Blur was a symbol of hope for the people, but at the same time began to draw Tess' attention. After Tess took Clark on a business trip and revealed that Lex had kept a journal about him, she hoped that he would share his secret with her and orchestrated a plan to achieve it, but Clark was able to fool Tess. Without knowing the truth about Tess' plan, Clark told Chloe that Tess might not be as untrustworthy as Lex after all.
On Chloe's birthday, Clark investigated a magician named "Zatanna" who made Chloe look like Lois. After Zatanna granted Clark's heart's deepest desire, he was made to believe he was a normal human. With the help of Chloe, Clark was able to remember who he was really and stop Zatanna. Later, Clark confess he was comfortable about being a hero and Chloe start asked him about his changing relationship with Lois.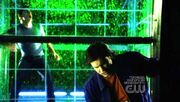 Clark realized that Davis was responsible for the attacks on people around the city when he and Chloe discovered that he had buried dozens of bodies in an old field. Tess revealed to Clark that she knew he was the Traveler and that Davis was the ultimate destroyer and informed him they were destined to kill each other. After Chloe helped Davis kill himself believing that Davis was destined to kill Clark, Clark felt responsible for Davis' fate.
When Chloe asked Clark to help her retrieve her stolen laptop, he discovered that the new super-heroine "Stiletto" was Lois, who was trying to keep the attention of the Red Blue Blur to rise her journalism career. Lois as "Stilletto" ended up saving Clark from mobsters holding Jimmy hostage. In the heat of the struggle, an incapacitated Clark risks his life and takes a bullet to save Lois. Clark called Lois with a voice-changer as the Red-Blue Blur and encouraged her that she didn't need a gimmick to be the best reporter she could be.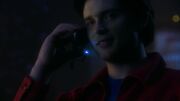 Clark realized that Chloe had been distant and distracted and confronted her, but Chloe decides would not tell him what she was dealing with.
Clark confronted her again when he realized that Davis might not be dead but Chloe continues with her charade. Although Oliver told Clark he needed to kill Davis, Clark was reluctant, but when Davis held Oliver and Jimmy hostage, Clark decides send him to the Phantom Zone and take Davis to the Fortress. Chloe intervened before he could send Davis to the prison and then fled with him to keep Clark´s safe.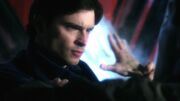 After Chloe disappeared with Davis, Clark learned that Tess was using a team of metahumans to hunt Davis and was shocked when Chloe returned and encouraged him to kill Davis. After learning that she wasn't the real Chloe but rather a shape-shifter member of Tess team, Clark discovered that Tess would do everything possible, including destroying the black crystal of the Phantom Zone, to encourage him to accept his destiny and destroy Doomsday.
At the same time, Clark learned that Oliver was the one who had killed Lex Luthor and began to distrust him, letting him out from all his plans.
When Rokk Krinn came back from the future and informed Clark that Davis could not be stopped and that he will eventually kill Clark, he gave him another ring to send Doomsday to the future. Without wishing to condemn Davis as he considered him innocent, Clark arranged to meet with Dinah Lance and Bart Allen with a plan to split Davis and Doomsday, and trap Doomsday underground with an explosion.
Oliver and the others betrayed Clark and located Chloe and Davis before him and decided to end Davis their own. However, Chloe was able to separate Davis and Doomsday, who began a path of destruction in Metropolis. Clark revealed his secret to Jimmy and asked him to take Chloe and Davis to safety as he battled Doomsday. After stop Doomsday, Clark learned that Davis killed Jimmy himself, and was guilt-ridden as well as upset over the way he handled the situation. Clark told Chloe that he had lost faith in humanity, and that his human side prevented him from saving lives and then declared that his human side was dead.