"My name is Clark. I'll always believe in my friends and my family." - Clark Kent, Splinter.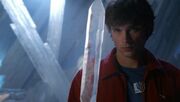 Clark entered the Fortress of Solitude, where Jor-El told him that he had to stay and prepare to save Earth from a great evil from Krypton. He began his training, but unbeknownst to him, Chloe was also transported to the Arctic with him. Unable to withstand the sub-zero temperatures, she collapsed inside the Fortress. Clark interrupted his training and Jor-El initially forbade him to leave, but relented. However, Clark was warned that he must return to the Fortress before sunset or there would be dire consequences.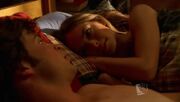 Clark took Chloe to a hospital in the Yukon. There, she admitted that she discovered his powers months ago and Clark told her that he was, in fact, from another planet. Clark returned to Smallville and banished the Disciples of Zod to the Phantom Zone. When Lana was injured, he chose to take her to the hospital and did not return to the Fortress. Jor-El took Clark's powers, making him powerless.
Initially, Clark was not sorry to see them go. With no secrets between them anymore, Clark and Lana finally began a normal relationship. When three metahuman criminals from Belle Reve escaped and held Lana, Jonathan, and Martha hostage, Clark was able to stop them without his abilities. When he discovered that Lex was responsible for their escape, Clark ended their friendship. Shortly after, Clark and Lana made love for the first time in Lana's apartment.
Days later, Clark was shot by Gabriel Duncan, who hatched a plan to redirect a nuclear missile to hit Smallville and kill all metahumans. Clark died, but Jor-El, temporarily possessing Lionel Luthor, resurrected him with his powers restored. However, Jor-El warned Clark that life-force of someone he loves will have to be traded for his own. Clark protested, saying he would rather die himself, but Jor-El informed him that Clark had already made the choice when he disobeyed him. Bitterly disappointed and apprehensive about Jor-El's prediction, Clark returned to Smallville, dismantled the missile in space, and saved the town.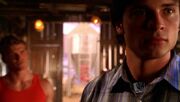 Clark befriended his World History professor, Milton Fine. When Clark was infected with silver kryptonite, Fine revealed himself to be a Kryptonian and cured him. He later claimed that he was sent to watch over him and see that Clark walks the path of a true Kryptonian. However, when Fine infected Martha with a Kryptonian disease, Clark learned that Fine was actually the Brain InterActive Construct, a Kryptonian artificial intelligence that had, in fact, manufactured the silver kryptonite and was using Clark in a plot to release General Zod from the Phantom Zone.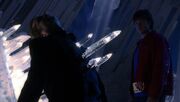 With his abilities restored, Clark abstained from having sex with Lana. When she confronted him about it, Lana knew Clark was being less than truthful and the issue continued to drive a wedge between them. Clark admitted to Chloe that he wasn't sure what would happen and did not want to risk hurting Lana. Eventually, he realized that that he would lose Lana due to his secrecy, so he decided to take Chloe's advice.
Clark showed Lana the Fortress of Solitude, told her of his true origins, and proposed to her, which she later accepted. At Jonathan's election victory party, Lana was summoned away to the
Luthor Mansion
by Lex, who drunkenly asked about Clark's secret, and Jonathan was summoned away by Lionel. While driving back, Lana was chased by Lex and she was killed when a school bus collided with her car. Clark arrived too late to save her and having stopped at the accident site to comfort Clark, Jonathan never arrived to meet Lionel.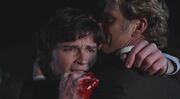 Devastated, Clark tearfully begged Jor-El to bring Lana back to life and Jor-El sent him back in time to the moment before he told her everything. Instead, Clark was forced to lie about why he invited her over. However, Lana saw through his excuse and told him that she wanted a break from their relationship. The second time, Clark was able to prevent the accident and save Lana, but Jonathan successfully made it to his meeting with Lionel. When Clark and Martha returned home, they saw Jonathan wandering around the farm. Having just beaten up Lionel, Jonathan collapsed to the ground and died in Clark's arms. Clark confessed to Martha that Jonathan died because he tried to prevent Lana's death.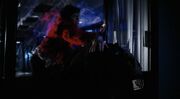 Later, Clark told his mother that he "sort-of dropped out" of college to help with the farm. He also befriended a mysterious vigilante in Metropolis, Andrea Rojas. Andrea helped Clark find a thief who stole his father's watch from his mother and his experience with her helped Clark cope with his father's passing.
Clark met the seductive Simone who used a mystical amulet to hypnotize him to be her boyfriend. Under her control, he demonstrated his abilities to her and was about to engage in an intimate moment with Simone until Lana caught them. Simone was revealed to be sent by Lex to gain information on Clark. Instead, she told Clark to kill Lex. Chloe was able to stop him just in time with a chunk of kryptonite. During the confrontation, Simone's amulet was broken and Clark regained his senses. Realizing that all he seemed to bring to Lana was pain, Clark lies to Lana and said that he was no longer in love with her and they broke up.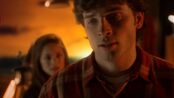 Clark searched for Milton Fine in Honduras. When he returned to Smallville, he learned that Lana had become addicted to a kryptonite-based drug that allows a person to die for a brief period of time and communicate with their deceased loved ones. While trying to save Lana, Clark was injected with the drug and died. In the afterlife, he had a conversation with Jonathan in which he learned that Lionel knew his secret. When Clark returned to life, he began to watch Lionel closely.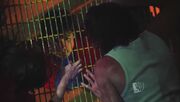 Clark and Martha briefly took in a little girl, Maddie Van Horn. Maddie had been mute ever since her birth mother's death and Clark was able to get her to open up to him and start talking again. Clark helped Maddie gain control of her powers and reunited her with her grandmother.
Clark was forced to confirm what Lionel already knew when Lionel and Martha were kidnapped by a vindictive former LuthorCorp employee. In order to save his mother's life, he had to reveal his powers to Lionel. Clark later confronted Lionel, most likely to gauge exactly what he would do with his newfound information. Lionel maintained that he cared too much about Martha to expose Clark, but Clark did not believe him.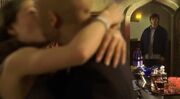 Clark saved the life of a stranger, Graham Garrett, who vowed to repay Clark for his kindness. Unfortunately, Graham was a hit man with the ability to make himself invisible and he decided to kill Lex as a way to repay Clark. When he went to the Luthor Mansion to warn Lex, Clark saw Lex and Lana kissing. Symbolically, the telescope he used to admire Lana from afar "broke" on the same day she came to tell him that she and Lex were in a relationship.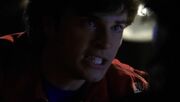 On his birthday, Clark saw his father's ghost, who told him that he had to kill Lionel. Clark and Chloe discovered that Lionel had meetings scheduled about "The Weapon." Thinking that Lionel planned to use him as a weapon, Clark called Lionel to the barn and started to beat him up. Lionel tried to explain his presence that night, but Clark was too emotional to listen. When Jonathan appeared again, Lionel convinced Clark that the image was not his father, but a Brainiac duplicate. Knowing his father would not want him to become a murderer, Clark attacked the impostor. Lionel went into a trance and vaporized the Brainiac copy.
Lionel showed him an entire closet filled with papers covered in Kryptonian symbols that he wrote. Chloe and Clark translated the symbols as "Zod is coming."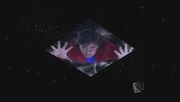 When Lex was kidnapped by Brainiac and given Kryptonian powers, Jor-El explained to Clark that Zod was responsible for Krypton's destruction and that his mind and spirit required a host body to inhabit on Earth. In order to prevent Zod's release, Clark must destroy Zod's chosen vessel: Lex. He was given a Kryptonian dagger to do so. When Fine approached Clark, he refused to release Zod. Fine then released a computer virus which spread rapidly to every major city on Earth.
With Metropolis in chaos, Clark went to get Chloe, but she urged him to go without her and stop Zod. Saying she might never see him again, Chloe gave him a passionate kiss. Clark confronted Zod in Lex's body, but he was overpowered and thrown into the Phantom Zone.