"With everything we've been through with Jor-El, I just wanted to close that chapter in my life. I guess it doesn't matter what I want." – Clark Kent, Transference.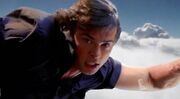 Three months later, Clark reappeared in Smallville in a cornfield as Kal-El with no recollection of his life as Clark Kent. He was found by Lois Lane, who took him to the hospital, where Martha came and took him back to the Kent Farm, hoping that Clark would return to normal. Kal-El insisted that it was his destiny to collect the Kryptonian Stones of Power, and was summoned by the first one: the Crystal of Fire, which was recovered by Lex in Egypt. He flew away, took the stone from Lex, and put it in an altar in the Kawatche Caves. Martha contacted Dr. Virgil Swann to help free Clark from Kal-El and Dr. Swann sent his associate, Bridgette Crosby. Crosby gave Martha a piece of black kryptonite and Martha used it to separate Clark from Kal-El: Clark then used the black kryptonite to eliminate Kal-El. Back to normal, Clark began to help Lois investigate Chloe's murder. They discovered that Chloe was indeed alive and saved her from a metahuman assassin.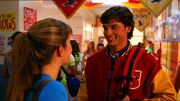 During his senior year, Clark again went against his parents' wishes and joined the football team, becoming the star quarterback in his rookie year. Unsurprisingly, he successfully took the team to an undefeated season and a state championship. Clark won a football scholarship from Metropolis University, but turned it down when he realized that he would be under too much scrutiny to conceal his powers.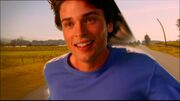 Clark befriended Bart Allen, a boy that also had super-speed and used it to pickpocket and steal. He helped Bart realize that he should not use his powers to commit crimes or hurt others. Clark learned that Lex had a manuscript with a hidden map to another Stone of Power. Bart stole the map to sell it, putting both of their lives in danger. However, Clark's influence made Bart decide to give it back. He saved Clark and left Smallville, promising to try to live a more moral life.
Lionel Luthor obtained the Stone of Water and used it to switch bodies with Lex until Clark intervened: Clark and Lionel ended up switching bodies instead. Lionel discovered Clark's powers and began to wreak havoc on Clark's friends and family. In Lionel's body, Clark caused a riot in prison to enable him to return to his own body.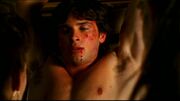 Even though he was preparing for a visit from a representative from Princeton University, Lois convinced Clark to throw a birthday party for Chloe in his barn. The party got raucous and out of hand when Countess Margaret Isobel Thoreaux and her companions attended, possessing the bodies of Lana, Chloe, and Lois. They stripped Clark of his powers when he tried to stop the witches: he received them back when he touched the Crystal of Fire. When Clark destroyed Isobel's spell book with his heat vision, the girls returned to normal.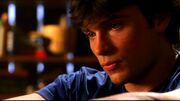 Alicia Baker returned to Smallville and she and Clark rekindled their relationship. However, in an effort to convince him to run away with her, she gave Clark a red kryptonite necklace and the two ran away to Las Vegas to get married. On their wedding night, Alicia released Clark from the effects of the red kryptonite. His reasonable thinking restored, Clark was very angry at her for "drugging" him and broke up with her. Alicia apologized profusely and was even shot trying to protect his secret, so they later got back together. When Alicia was framed for attacking Lana and Jason Teague, then killed by another metahuman, Clark was brokenhearted and guilty. He was at one point so consumed with rage that he almost killed her murderer until Lois was able to reach out to him and halt the assault. Unbeknownst to him, Alicia exposed Clark's powers to Chloe.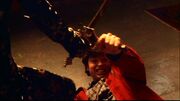 Much to Clark's extreme annoyance, when Lois got kicked out of Metropolis University, she asked if she could stay with the Kents until she got back on her feet. Clark offered her his room and slept on the living room couch for the rest of the school year. He did his farm chores at odd hours to avoid being caught by Lois. Clark also adopted a dog that Lois hit with her car.
Before Dr. Swann died, he sent Clark one last letter and also gave him back his key. Clark placed it in the cave altar and established communication with Jor-El once again. Jor-El urged him to fulfill his destiny and collect the Stones of Power. Clark and Lana followed Jason and Lex to China to obtain the Crystal of Air. However, following another encounter with Isobel, Clark lost possession of the stone.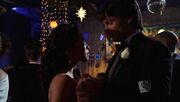 As his senior year drew to a close, Clark had many strange things happen to him: he got possessed by Dawn Stiles during his senior prom, lost his memory, and he and Lana found a rapidly-aging child left abandoned in a field.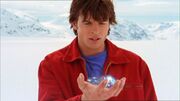 Clark decided to attend Central Kansas A&M University so that he could commute while continuing to live at home and help his parents with the farm. The day he graduated from high school, Clark had a precognitive nightmare of something terrible happening in Smallville. Immediately after Clark accepted his diploma, the coming of another meteor shower was announced. Clark once again sought guidance from his Kryptonian birth father and Jor-El told him that he must reunite the Stones of Power immediately.
As the meteors began to bombard Smallville, Clark managed to find the other two Stones of Power and reunited them to form the Crystal of Knowledge. After grabbing the crystal, he was teleported to the Arctic Circle where he threw the crystal into a blanket of snow and created the Fortress of Solitude.