"All these prophecies about the Traveler. I just hope I can live up to what everyone thinks I'm supposed to be." - Clark Kent, Traveler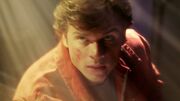 Bizarro wanted to kill Clark and live his life since he obtained all of Clark's memories and started to become stronger by absorbing kryptonite. After momentarily escaping from him, Clark helped Lois and an unconscious Chloe to get out of the dam that was breaking and took them to the hospital, were the doctors pronounced Chloe dead. A grief-stricken Clark was able to super-hear Chloe's cries for help and rescued her from the morgue. With Chloe and the Martian Manhunter's help, Clark was able to defeat Bizarro by punching him towards the Sun out of the Reeve's Dam after discovering that the sun was his greatest weakness.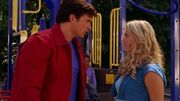 Still sad over Lana´s death, Clark decided to start his Kryptonian training after her funeral and told Lois he was leaving Smallville. However, after he found his kryptonian cousin Kara who had been in suspended animation for eighteen years, Clark decided to delay his plans and help her to adapt to life on earth. He let Kara stay with him at the farm, but when he went to ask Jor-El about her, Jor-El told him that Kara could have a hidden agenda and that his training begins with watching over her.
Clark tries to help Kara to control all her abilities so they could go unnoticed as he had done all his life, but Kara declared rebelliously that she would learn on her own. When Kara rescued him from two metahuman beauty queens, Clark realized that she would be fine living on earth on her way. By that time, Clark was shocked when Lana returned to him and explained that she faked her death to get out of her marriage with Lex. Clark offered her refuge, and they rekindled their relationship.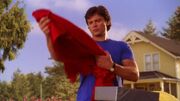 Clark learned from the Martian Manhunter that Kara and her family were enemies of his and Jor-El and warned Clark not to trust Kara and to locate her missing crystal before her. Kara got upset that Clark didn't trust her and disappeared for weeks. While searching for the crystal, Clark learned that Chloe had decided to undergo a radical cure for her meteor-rock infection and saved her after learned that the doctor involved, was actually killing his patients.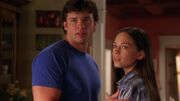 Clark saved the life of famous actress Rachel Davenport, but was forced to consider that his destiny might be more important than the life on the farm with Lana. Lana claimed she did not want to be the one holding Clark back, but Clark assured her that he had all he wanted with her.
Clark located Kara and rescued her from Agent Carter, who had given her a treatment designed to recall her memories of Krypton. Clark learned that his birth mother Lara-El had visited his home before his birth. He found a photograph of her, and also found Kara's crystal and hid it from her. Through reliving Kara's memories, Clark learned that his mother's DNA was encased in the crystal and shared this information with Lana.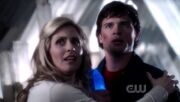 Trying to reconnect with Lana, Clark arranged a romantic afternoon, but they were struck by lightning and his powers were incompletely transferred to her. Lana was amazed and excited by her now endless possibilities and convinced him to try out super-powered lovemaking, but even afterward, Clark wanted to restore Lana to normal as soon as possible. After Lana used the powers to hurt Lois, Clark was forced to realize that she was not the same person she used to be. He discovered Lana's secret agenda and found her as she was assaulting Lex and reversed the transfer. Clark confessed that felt guilty by her change because it was the result of his never trusting her.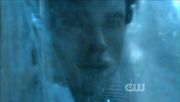 Clark began to hear a voice calling out to him from the blue crystal, claiming to belong to his birth mother and take it to the Fortress, where replications of both Lara and his uncle Zor-El were formed. Lara gave Clark his father's Victory ring containing blue kryptonite, inadvertently stripping Clark of his powers. Zor-El was then able to kidnap Lara and announce his plans to dominate the earth. Clark went to confront Zor-El powerless and then Lara explained that Zor-El would only be stopped with the destruction of the blue crystal, so Clark destroyed it but at the same time both replicants. After Kara disappeared again, Clark asked Jor-El about Kara's whereabouts, but Jor-El replied that his defiance would not go unpunished.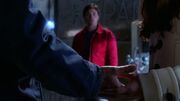 Jor-El imprisoned Clark in a crystal for over a month, while Bizarro escaped and attempted to take over Clark's life and seduce Lana to fall in love with "Clark"'s new attentiveness and devotion. When Bizarro went to the Fortress looking for a kryptonian shield, Jor-El released Clark so he could defeat him. Clark was able to find the owner of the shield, Dax-Ur, who gave him blue kryptonite and Clark defeated Bizarro again.
Clark realized that Lana expected him to be something he is not, causing a tear in their relationship. However, after listening to Lois experience with Oliver after learning about his secret, Clark told Lana that he wanted to try to patch up their relationship.
When Clark and Chloe learned that Lex had been shot just after locating Kara, Clark volunteered to use an experimental interrogation procedure to enter Lex's subconscious and find his cousin's location. During his journey through Lex´s mind, Clark was able to understand a little more about his former friend and left the ordeal with the idea that Lex's good side could possibly be found again.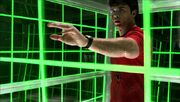 Upon Kara's return without her memory, Clark believed that she should be told the truth, but Lionel and Lana disagreed. However after Pete informed Clark during his visit that Lionel was lying to him by hiding Kara's bracelet from him, Clark start to wonder if Lionel was really an ally.
Clark hid Kara's bracelet in the barn and intended to go to the Fortress to ask Jor-El to cure her but then he was attacked by a team of men using kryptonite-enhanced taser guns and taken to a facility to be imprisoned in a cage that emitted adjustable levels of kryptonite radiation. Clark was saved by Kara with the help of Lana and Chloe and then it was revealed that Lionel had created the cage and orchestrated Clark's abduction to protect him from Patricia Swann. Patricia introduced herself as the daughter of Virgil Swann and gave him her father's diary, which contained all of the acquired information about a prophesy of a Traveler.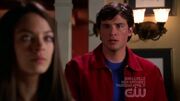 When Brainiac resurfaced trying to get Kara to leave with him, she suggested she teach Clark how to fly so they can face the kryptonian computer, but Clark didn't really try to learn, convinced that he does not have the ability yet. After confronting Lionel about his role in Veritas, Clark discovered that Lana was attacked by Brainiac, who used her to deliver a message to the cousins. Against Clark's wishes, Kara left with Brainiac in order to save Lana, but Lana remained in a catatonic state and Clark became devastated from guilt and grief.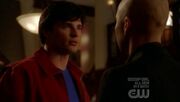 Clark spent most of his free time by Lana's hospital bed and enlisted Chloe´s help to search outer space for Kara and Brainiac. After learning that Lionel Luthor seemingly committed suicide, Clark and Chloe began to suspect that Lex was responsible. When Clark found a message for him left by Lionel, explaining that he must collect the Veritas keys to stop whoever could control him, Clark confirms his suspicions about Lex.
Clark placed all his priorities on curing Lana and finding Brainiac. When he realized that the entries of Swann's journal were changing, he went to the Fortress were he heard Kara's voice who explained that she was back in time on Krypton.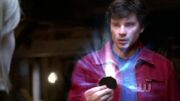 After learning that Brainiac goes back in time to kill an infant Kal-El, Clark fell into a depression and decided that Earth would have been better off if he had never arrived. Jor-El then showed him such an alternate reality where he never exist and Clark saw that his parents and friends were happy and healthy, but without his presence, Brainiac and Lex were taking over the Earth, causing mass destruction. This motivated him enough to go back in time and stop Brainiac and bring Kara home.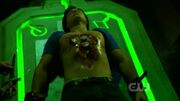 Thinking he had defeated Brainiac, Clark continued to try to cure Lana, but she continued to deteriorate. Clark then tracked down the last remaining member of Veritas, Edward Teague in Montreal and goes after him. However, Teague captured Clark wanting to perform a Kryptonian ritual to sacrifice the Traveler after realizing that Clark failed to do what he should have done to stop Lex. Teague carved the symbol of his ancestors into Clark's chest and left him to die, but Chloe arrived shortly after and saved him. Then, Clark realized that eventually, he might be forced to make a conflicting decision between save the Earth and kill Lex Luthor.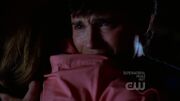 Lois suggested that Clark apply to work at the Daily Planet, but Clark declared that he'd never work for Lex. Suspecting that Kara killed Edward Teague, he and Chloe decided to confront Kara on her recent strange behavior and discover that "Kara" was Brainiac in disguise. He attacked Chloe as well and informed Lex that Clark was the Traveler. Clark confronted Brainiac and killed him, freeing Lana and Chloe from their catatonic state. After Lana fully recovered, she left the hospital and left Clark a video message in which she ended her relationship with him.
A heartbroken Clark learned from Jimmy of Lex's frequent trips to the Arctic and realized that Lex actually knew his secret. Clark went to the Fortress to confront his former friend, but Lex had obtained an orb that would control him. Clark tried to plead with Lex and appeal to the part that was his friend, but Lex had convinced himself that it was his destiny to defeat the Traveler. When Lex tried to activate the orb, the Fortress began to crumble on top of them.
Ad blocker interference detected!
Wikia is a free-to-use site that makes money from advertising. We have a modified experience for viewers using ad blockers

Wikia is not accessible if you've made further modifications. Remove the custom ad blocker rule(s) and the page will load as expected.