"Professor Willowbrook thinks that I'm Naman. Jor-El wants me to be some sort of Kryptonian warrior. I just want to be Clark Kent." – Clark Kent, Talisman.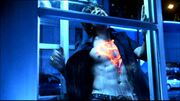 Three months later, still under the influence of red kryptonite and living in Metropolis, Clark went under the alias of "Kal." He got involved with a crime lord, Morgan Edge, who hired him to break into LuthorCorp. Jonathan made a deal with Jor-El to help bring Clark back home to Smallville by promising to release Clark to Jor-El when it came time to fulfill his destiny. Jonathan temporarily received Kryptonian powers and battled Clark, ultimately leading to Clark's homecoming. However, Edge tracked him down and demanded that he return Lionel's package (which contained a vial of Clark's blood). Edge learned of Clark's weakness to kryptonite and nearly sold him to Lionel, but Clark escaped. What happened to the money he stole or how he covered it up is unknown: Clark simply said he tipped off the police about the money's whereabouts.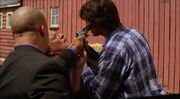 Clark was shot in the hand and shoulder by a kryptonite bullet made by Van McNulty, who believed Clark to be a metahuman. With Clark passed out on the kitchen floor, Jonathan and Martha saved him by extracting the bullet from Clark's shoulder using a knife and pliers.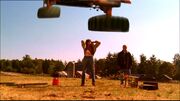 The Conroys moved to Smallville and into Lana's old house. While studying in his loft, Clark fell into a deep sleep and his dreams were penetrated with cries for help from Sarah Conroy, who was being kept in a drug-induced coma by her uncle and legal guardian, Nicholas. His parents were unable to wake him for over a day. Upon waking, Clark and Lana investigated the situation, but were thwarted by Nicholas. Sarah managed to keep a hold on Clark and he dozed off again while driving, wrecking the family truck. In their shared dreams, Clark was able to save Sarah from Nicholas and wake them both up by encouraging her to face her uncle.
Clark learned that Earth's sun was the source of his powers when a solar flare caused them to go into overdrive or fail completely. During this time, he met the drunk Perry White. Perry witnessed Clark's powers, but since he was perpetually drunk, nobody believed him. Under the effects of the solar flare, Clark became vulnerable and Perry was convinced that everything he saw from Clark was probably a drunken hallucination.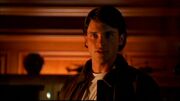 Thanks to some kind of flashbacks, Clark discovered that Jor-El was on Earth forty years ago and that probably he being found by the Kents was not a coincidence as Jor-El had found Jonathan's father on his visit to Smallville. In a series of revelations, Clark discovered that Lionel Luthor also could be more dangerous than he thought.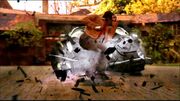 In an attempt to save Lex's life, Clark revealed his powers to Lex by taking the hit of a car. Lex was sentenced to Belle Reve and Clark began to question the consequences that could lead from Lex knowing his secret. However, Lionel had Lex's mind erased of the past seven weeks, and Clark's secret remained safe.
While trying to prevent a robbery, Clark tried to use his heat vision on the metahuman thief Nathan Dean, but the heat blast was reflected off of a kryptonite gem, which blinded him temporarily. While blind, Clark gained the use and control of his super-hearing. He learned of Chloe's deal with Lionel and they did not speak to each other for a time. They came to a tentative agreement that Chloe might not understand everything about him, but he would tell her when he was ready.
When Clark and Lana were hypnotized into trying to kill Chloe, Clark felt guilty, so he forgave Chloe for making a bad decision in a moment of weakness and their friendship was repaired.
Clark discovered one of his classmates, Alicia Baker, was a metahuman with the power to teleport anywhere she wanted. The two were forced to reveal their powers to each other while in a crashing elevator. Their shared secrets brought them together and they began dating. However, Alicia became completely obsessed with Clark, inserting herself into every aspect of his life. She attempted to kill Lana so she could have Clark all to herself, but Clark saved Lana just in time.
Thanks to Jonathan's deal with Jor-El, Jonathan's heart began to have problems. When Dr. Scanlan recommended triple bypass surgery to repair the arterial blockage in his heart. Jonathan was reluctant until Clark told him how important he is to him. Clark began to blame himself for the condition of his father and began to doubt about the true intentions of Jor-El.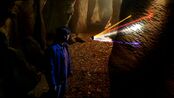 When Lionel tried to extract information about Clark from Dr. Swann, Clark accused Swann of betraying him. He learned that Jor-El was waiting for Jonathan to fulfill his end of the bargain they made to bring Clark from Metropolis.
Under the guise of concern for his son, Lionel asked Clark to intervene when Lex began using an experimental treatment at the Summerholt Institute to recover lost memories, which involved submersion into a tank filled with a liquid kryptonite solution. When Clark went to rescue Lex, he was weakened by the solution, allowing Dr. Lawrence Garner to overpower him and place him inside the tank. Clark went into seizures as he recovered his earliest memory of his birth parents. He almost died, but Lex arrived just in time to save him.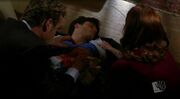 Clark was stabbed in the stomach by Jeremiah Holdsclaw with the Starblade, an ancient Kawatche artifact apparently made of kryptonian metal. He almost bled to death, but Jor-El healed him through Jonathan and Clark survived. Clark also learned that either Lex or Lionel would be his ultimate enemy.
Many major events happened as Clark finished his junior year. Lana announced that she was moving to Paris and Clark decided to reveal his secret to her to make her stay. But when Pete was beaten up by one of Lionel's lackeys, Clark changed his mind because he did not want to put Lana in danger.
Clark said goodbye to his longtime friend when Pete's parents got divorced and Pete decided to move to Wichita with his mother. Lionel told Clark about Lex's secret room, which contained the evidence of Lex investigating his secrets. Clark declared that since Lex had not stopped researching him, their friendship was over. However, he kept his promise to testify against Lionel.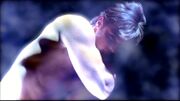 Clark also met "
Kara
", a beautiful girl who claimed to be from
Krypton
. Kara enticed him to fulfill his destiny and recreate Krypton with her and also revealed the deal made between Jonathan and Jor-El. Still reeling from all the recent goodbyes and revelations, Clark decided to go with Kara.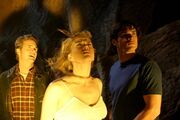 As Clark prepared to leave with Kara, Jonathan arrived with proof that Kara was being used by Jor-El to lure Clark to him. When Clark refused to go into a portal in the cave wall, Jor-El dissipated Kara and hit Jonathan with a bolt of energy, threatening to kill him if Clark refused him again. Despite Jonathan's pleas, Clark entered the light and
disappeared
.