"I have got all these questions, and I can't leave them in the storm cellar anymore. Why did my parents put me in that ship? What was so bad they had to send me away?" – Clark Kent, Rosetta.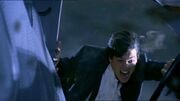 Clark was among the hundreds of volunteers who helped restore Smallville after the devastating tornadoes. He urgently searched for his missing father while at the same time trying to sort out his feelings for Lana and Chloe. Trying to mask her hurt from being left at the dance, Chloe convinced Clark that she had decided that they would be better off as friends and Clark believed her.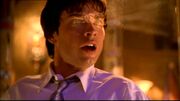 Clark developed heat vision the first day of his sophomore year. Triggered by hormones connected to his sex drive, he has since learned to control his new gift. Clark was briefly jailed as a suspected arsonist after Desirée Atkins claimed he had set fire to her car. He started a fire in the holding cell and when Sheriff Ethan opened the cell door, he escaped, only to later receive a lecture from the sheriff and cleared of all charges once Desirée was arrested for the attempted murder of her husband, Lex.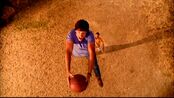 Defying his parents, Clark revealed his origins and powers to Pete when Pete found Clark's ship in a cornfield and asked Clark to help him move it. At first, Pete was angry with Clark for not trusting him and stopped speaking to him. However, Pete was kidnapped by Dr. Steven Hamilton, who threatened to kill him unless he revealed Clark's secret. Clark came to Pete's rescue and the two worked together to escape Dr. Hamilton. Understanding the responsibility and danger of knowing Clark's secret, Pete forgave Clark for keeping it from him.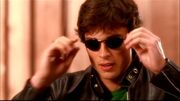 Clark bought a class ring that had red meteor rock in it, discovering the drug-like effects it has on him. He became rebellious and somewhat dangerous for the first time. Pete and Jonathan had to work together to overpower Clark and destroy the ring.
Clark met his adoptive maternal grandfather, William Clark, for the first time and was determined to end the strife between William and Jonathan. He was dismayed to learn that his parents became estranged from William when he was adopted, because they didn't think they could trust William with Clark's secret.
After Chloe started to investigate the mystery surrounding the adoption of Clark when a woman claiming to be his biological mother, Clark was upset enough with Chloe and learned what happened after the Kents discovered him in the cornfield that fateful day and why his father hates the Luthors.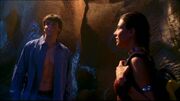 Clark discovered the Kawatche Caves, where he met Kyla Willowbrook, a Granville High School student doing research in them. Clark and Kyla had an instant connection and grew very close. For the first time in his life, he felt like everything fit and like they were destined to be together. The caves contained a series of elaborate drawings and symbols, along with a depression in the wall shaped exactly like his key and, according to Kyla, depicted the legend of Naman, which Clark believed contained clues to his origins. After Kyla's death, Clark convinced Lex to preserve the caves. Lex hired Dr. Frederick Walden to do research on the caves and their strange markings, while giving Clark unlimited access to the caves. However, in Lex and Lionel's endless battle for LuthorCorp, Lex lost control and Lionel took over their exploration.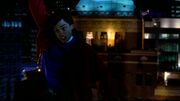 Clark rescued Lionel and Martha from thugs that took them hostage at LuthorCorp and then learned that Lionel has been investigating the symbols of the caves and experimenting with Kryptonite. After Martha recovered the key from Lionel´s vault, she hid it in her house. However, when Lionel started to look at the farm, she had to hide it elsewhere.
Clark decided to ask Lana out on a date and she accepted. However, he had to break their date because Pete and Chloe got infected with a parasite from the cave, which caused wild and impulsive behavior. Pete slipped a piece of red meteor rock into Clark's shirt and Clark joined in on the fun. Not realizing that her friends were under undue influences, Lana got upset with Clark and their relationship stalled yet again. Clark saved Pete and Chloe, but it meant having to lie to Lana about his own behavior.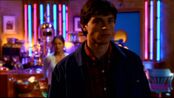 When Martha and Clark were exposed to meteor-rock-bearing spores in the storm cellar, they became deathly ill. Martha was admitted to the hospital (where her pregnancy was revealed), but Jonathan kept Clark at home to avoid risk of Clark's alien physiology being discovered. Chloe came to visit Clark, and while he was sleeping, confessed her true feelings in the form of a letter. However, Chloe left in tears when Clark called for Lana in his sleep. Jonathan placed the key in the spaceship, causing the craft to unleash a burst of energy that restored Clark and Martha to good health.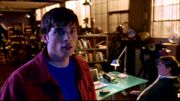 Clark began to have dreams of putting the key in the hole in the cave wall and decided to do it, against his parents' wishes. When he did, he learned how to read the alien language and translated it for his parents. Beyond his control, Clark burned the symbol for "hope" into the side of the barn with his heat vision. Dr. Virgil Swann saw the symbol in a newspaper and contacted Clark. Dr. Swann translated a message which had been sent 13 years ago: "This is Kal-El of Krypton. Our infant son, our last hope. Please protect him and deliver him from evil. We will be with you, Kal-El, for all the days of your life." Clark learned that his home planet was called Krypton and all the meteor rocks are also from Krypton.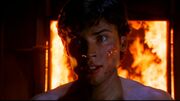 After returning, Clark and Jonathan opened the ship for the first time and Clark translated the message from his Kryptonian biological father: "On this third planet from this star Sol, you will be a god among men. They are a flawed race. Rule them with strength, my son. That is where your greatness lies." Clark was horrified at the idea that he was sent to conquer and rule Earth.
In his second brush with the law, Clark served 40 hours of community service for a misdemeanor battery charge brought against him after he attacked Andy Arthur, a college frat boy attempting to assault Lana. Andy brought a million-dollar lawsuit against the Kents. Clark later found out that Andy was faking his injuries and he talked Lana into using her newfound karate skills to make Andy drop the lawsuit.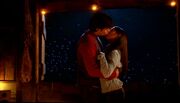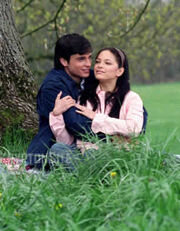 Because he was helping Lana, Clark forgot to write an article for the
Torch
and he and Chloe got in a fight about it. He subsequently quit the newspaper. Lana decided to give Clark another chance and made him a birthday cake: they shared their first kiss. However, this time, knowing how Chloe felt about Clark, the next day, it was Lana who put a hold on their relationship again, because she was concerned that it would ruin all three of their friendships. Clark convinced her that it was worth the risk and Lana was persuaded, but only if Clark promised to tell Chloe.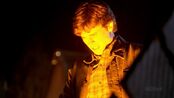 With the commotion surrounding Dr. Walden and the ship, Clark was unable to before Chloe figured it out herself. Chloe confronted Clark and broke off their friendship completely.
On Clark's birthday, the ship began broadcasting the message "The day is coming," which only Clark and Dr. Walden could hear. Clark found Dr. Walden at his barn with the key and with a powerful ability to project energy. Later, Jor-El called to him through the ship, saying that it was time to leave Smallville forever for him to fulfill his destiny. When Clark defiantly resisted, Jor-El burned the sign of his ancestors on Clark's chest as a warning of any future disobedience.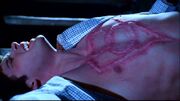 Thinking the only way to escape his biological father's grip was to destroy the ship, Clark stole Lionel's kryptonite key with Pete's help and put it in the ship. The pulse from the exploding ship rolled Jonathan and Martha's truck, causing her to miscarry the baby. Feeling immense guilt and sorrow, Clark stole a red kryptonite class ring from Chloe's desk at the Torch, took his father's motorcycle, and ran away to Metropolis under the influence of red kryptonite.