Clayton is a student at Smallville High School who currently runs the Torch with his friend Zoe.
Personality
Clayton secretly has feelings for Zoe. [citation needed]
Season Ten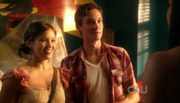 Clayton and Zoe met Clark and Lois when they returned for their high school reunion. It is revealed that Zoe has feelings for Clayton, too.