The Cosmic Staff is a long rod-like weapon that once belonged to Sylvester Pemberton but was passed down to his pupil Courtney Whitmore after he died.
Powers and Abilities
Vulnerabilities
The staff required a wielder for its abilities to be activated.
Season Nine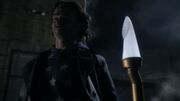 The Star-spangled kid, or Sylvester Pemberton, is out patrolling, with the staff in hand, when he notices Chloe Sullivan down below him. He talks with her but they get interrupted, and Sylvester, sensing danger, throws Chloe into a dumpster. Off-screen, he battles with Cameron Mahkent but he gets stabbed with an icicle shard and dies.
In the Comics
Coming Soon!
Ad blocker interference detected!
Wikia is a free-to-use site that makes money from advertising. We have a modified experience for viewers using ad blockers

Wikia is not accessible if you've made further modifications. Remove the custom ad blocker rule(s) and the page will load as expected.