This article is a stub. You can help the Smallville Wiki by expanding it.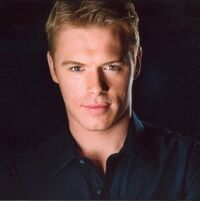 Diego Klattenhoff is a Canadian actor. He was born on November 30, 1979 in Nova Scotia, Canada.
Diego Klattenhoff is best known for playing Mike Faber in the Showtime series Homeland, Derek in Whistler, and Ivan in Men in Trees. Since 2013, he stars as FBI Agent Donald Ressler in The Blacklist. On Smallville, Diego Klattenhoff portrayed Josh Greenfield, the elder one of the Greenfield brothers, in season 4 episode "Krypto".
External links
Ad blocker interference detected!
Wikia is a free-to-use site that makes money from advertising. We have a modified experience for viewers using ad blockers

Wikia is not accessible if you've made further modifications. Remove the custom ad blocker rule(s) and the page will load as expected.