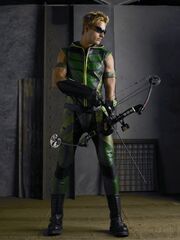 As Green Arrow, Oliver Queen wears a green and black leather costume. It has a hood, a voice-muffler and dark high tech sun glasses. His glasses have special electronic features, one of these features allows him to calculate distances, trajectory and track targets for pin point accuracy. [citation needed]
When Metropolis was infected with a zombie virus and Oliver was unable to save Lois from being infected he burned his old Green Arrow suit. In the time when Oliver was playing a deadly game that started in a casino, it was revealed that it was the League and mostly Chloe who planned to set the hero within free. After the event Oliver donned the bow and arrows again but with a new costume.
Trivia
The outfit was worn by Clark Kent on one occasion to act as cover for Oliver in his attempt to prove Lois wrong when she suspected Oliver of being Green Arrow. (Hydro)
Appearances
Gallery
→ See more images in Category:Images of Oliver Queen in the Green Arrow suit
Ad blocker interference detected!
Wikia is a free-to-use site that makes money from advertising. We have a modified experience for viewers using ad blockers

Wikia is not accessible if you've made further modifications. Remove the custom ad blocker rule(s) and the page will load as expected.