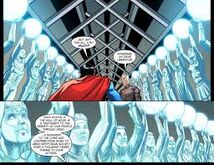 Hall of Scion on New Krypton is a place in which there are multiples statues of Kryptonians who had contributed to Argo's evolution
History
Hall of Scion in which there are multiples statues of Kryptonians who had contributed to Argo's evolution for over a thousand years. After being transported to the 31st century and arriving on New Krypton, Clark learns that Faora (clone) is seen by the Kryptonians as a symbol of sacrifice, she is worshiped as a martyr, because she was killed by Zod while being pregnant, and a Goddess They have made her a statue, placed in the Hall of Scion, which is full of statues of other Kryptonians they worship, with her holding her unborn child.
Ad blocker interference detected!
Wikia is a free-to-use site that makes money from advertising. We have a modified experience for viewers using ad blockers

Wikia is not accessible if you've made further modifications. Remove the custom ad blocker rule(s) and the page will load as expected.