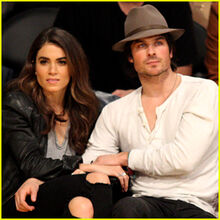 Ian Joseph Somerhalder is an American actor and model, who is born December 8, 1978, in Louisiana. He played the recurring character Adam Knight in seven episodes of the third season. He is also known for his role of Boone Carlyle in Lost and lately, Damon Salvatore in The Vampire Diaries.
He dated his co-star of The Vampire Diaries; Nina Dobrev who plays Elena Gilbert, from 2010 to 2013. His best friend is Paul Wesley who plays Stefan Salvatore in The Vampire Diaries and Lucas Luthor in this show.
He is currently married to Nikki Reed, his ex-girlfriend Nina Dobrev close friend, since April 26, 2015. They started dating sometime during summer 2014 and was engaged since early 2015.
Ad blocker interference detected!
Wikia is a free-to-use site that makes money from advertising. We have a modified experience for viewers using ad blockers

Wikia is not accessible if you've made further modifications. Remove the custom ad blocker rule(s) and the page will load as expected.