Ad blocker interference detected!
Wikia is a free-to-use site that makes money from advertising. We have a modified experience for viewers using ad blockers

Wikia is not accessible if you've made further modifications. Remove the custom ad blocker rule(s) and the page will load as expected.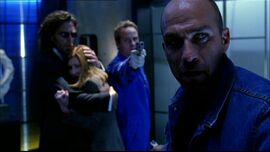 The Insurgence team consisted of Nicky, Pine, Bishop, and Kern.
Season One
Lex Luthor hired this team to plant listening devices in the office of his father, Lionel Luthor. Lex was inspired to bug Lionel's office after he lost a contract to Lionel and then found listening devices in his own office.
The Insurgence team turned burglar and decided to steal the valuables inside Lionel's vault. They kidnapped Lionel Luthor and Martha Kent when they found them in the building, but they were very disappointed to find only kryptonite bricks, confidential files and an octagonal disc. Clark Kent stopped them and rescued the hostages. Two of them were killed; two of them were arrested (see Insurgence).
Team members
Kern

Kern was the first leader of the team. He was shot to death by Pine when he refused to go along with the new plan to burgle the office, instead of just planting listening devices.

Kern
Occupation
Specialist in corporate espionage
Played By
Byron Mann
Status
Deceased

---

Pine

Pine became the new leader when he killed Kern. It was his idea to turn burglar and try to rob Lionel Luthor's vault instead of just plant listening devices for Lex Luthor. When Clark storms the room where the hostages are being held, he threatens Lionel with a drill to his head. Clark uses his super speed to disarm him, then Lionel shot Pine in the back. (In Prodigal it will be revealed that Lionel regained his sight "a few weeks ago". It is clear that he was able to see in order to shoot the right person, so he must have seen Clark use his abilities and suffer from the kryptonite.)

Pine
Occupation
Specialist in corporate espionage
Played By
Kevin Gage
Status
Deceased

---

Bishop

Bishop's specialty was planting the bugs that would read the hard drives. She was also responsible for cutting through the vault. When Clark stormed the room in which the hostages are being held, he threw her across the room and knocked her unconscious.

Bishop
Occupation
Specialist in corporate espionage
Played By
Karen Holness
Status
Alive

---

Nicky

Nicky was sent to check the other offices. He found Lionel Luthor and Martha Kent. They became hostages. Later, he was patrolling the hallway when Clark broke through the window. Clark interrogated him to learn the location of the hostages. Nicky never returned to the room, so Clark must have incapacitated him somehow.

Nicky
Occupation
Specialist in corporate espionage
Played By
Colin Cunningham
Status
Alive
Appearances