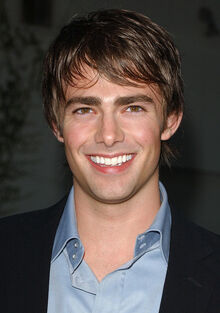 Jonathan Bennett is an US American actor. In the Smallville TV series, he played Kevin Grady in the Season 4 episode Blank.
Life
Jonathan D. Bennett was born June 10, 1981 in Rossford, Ohio. His father was David Bennett (1940-2014), a physician from Toledo, and his mother was Ruthanne Bennett, née Mason (1945-2012). Jonathan was the only child of Ruthanne. He has two half-brothers, Brian and Brent, and a half-sister, Lisa.
Bennett attended Rossford High School in Rossford, Ohio, where he graduated in 1999. He then attended Otterbein College in Westerville, Ohio.
Due to the bullying that he had gone through that he had gone trough at school and in life, Bennett supports the "Love is Louder" project.
Carreer
Jonathan Bennett made his first acting experiences at school and was a student of the theatre program at Otterbein college. After graduating from the college, he went to New York to pursue acting.
He was cast as "J.R. Chandler" on "All My Children", a soap opera by ABC, from 2001 to 2002. He became known by playing Aaron Samuels in the film Mean Girls from 2004. In 2005, he portrayed Kevin Grady in the Smallville episode Blank. 2007, portrayed main character Bo Duke in the Dukes of Hazzard Prequel. Further cinema and TV appearances followed.
Gallery
→ see also Jonathan Bennett/Gallery and Category:Images of Jonathan Bennett
External links
Ad blocker interference detected!
Wikia is a free-to-use site that makes money from advertising. We have a modified experience for viewers using ad blockers

Wikia is not accessible if you've made further modifications. Remove the custom ad blocker rule(s) and the page will load as expected.