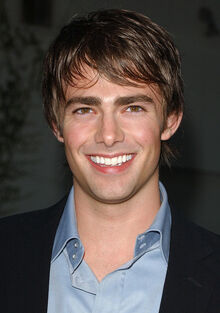 Jonathan Bennett is an US American actor. He became known by playing Aaron Samuels in the film Mean Girls from 2004. In the Smallville TV series, he played Kevin Grady in the Season 4 episode Blank.
Life
Jonathan was born June 10, 1981 in Rossford, Ohio. He has two half-brothers, Brian and Brent, and a half-sister, Lisa.
Bennett attended Rossford High School in Rossford, Ohio, where he graduated in 1999. He then attended Otterbein College in Westerville, Ohio.
Carreer
tba
Filmography
Movies
2003: Season of Youth
2004: Mean Girls
2005: Love Wrecked
2005: Cheaper by the Dozen 2
2006: Bachelor Party Vegas
2009: National Lampoon's Van Wilder: Freshman Year
2010: Elevator Girl
2010: Morning Glory
2010: Slightly Single in L.A.
2011: Cats Dancing on Jupiter
2012: Divorce Invitation
2012: Holiday High School Reunion
2013: Pawn
2013: Police Guys
2013: Anything Is Possible
2013: The Secret Village
2013: Authors Anonymous
2013: Misogynist
Television
Gallery
→ see also Jonathan Bennett/Gallery and Category:Images of Jonathan Bennett
External links
Ad blocker interference detected!
Wikia is a free-to-use site that makes money from advertising. We have a modified experience for viewers using ad blockers

Wikia is not accessible if you've made further modifications. Remove the custom ad blocker rule(s) and the page will load as expected.