Kevin Fair is a director of Smallville.
He has directed the following episodes:
Season Seven
Siren (co-written by Kelly Souders and Brian Peterson) - Chloe is attacked by the Black Canary, a mysterious woman with a subsonic cry. Under the direction of Lex, the Black Canary launches an attack on the Green Arrow and Clark. Meanwhile, Lois discovers Oliver's secret.
Season Eight
Odyssey (co-written by Todd Slavkin, Darren Swimmer, Kelly Souders & Brian Peterson) - The Justice League, led by the Green Arrow, hits the Arctic in search of Clark, who disappeared after the Fortress collapsed. The team immediately has a confrontation with the new CEO of LuthorCorp, Tess Mercer. Meanwhile, Chloe is being held prisoner by a suspicious group who has discovered she has a new power, and Clark has been stripped of his powers by Jor-El.
Abyss (co-written by Don Whitehead and Holly Henderson) - Brainiac begins removing Chloe´s memories one by one until the only person she remembers is Davis. Clark realizes the only way to stop Brainiac from taking over Chloe's mind is to rebuild the Fortress of Solitude and ask Jor-El to heal her.
Season Nine
Season Ten
Lazarus (written by Don Whitehead and Holly Henderson) - Lois finds Clark's lifeless body and removes the blue kryptonite enabling him to heal himself. Lois sneaks away before Clark fully awakens in order to protect his secret. Chloe is desperate to find Oliver, so she turns to an unlikely source for answers. Jonathan returns to the Kent Farm with a message for Clark saying that "something dark is coming", and Tess awakens in a LuthorCorp lab, where she discovers that her old Mentor Lex Luthor is alive and is using clones of himself for their organs and body parts to restore him to life.
Abandoned (written by Drew Landis and Julia Swift) - Lois finds a video made for her by her mother, Ella Lane, before she died. After watching the tape, Lois makes a drastic decision about her relationship with Clark that takes her to the Fortress, where she comes face to face with Jor-El and Lara. Meanwhile, Tess has a nightmare involving herself as a child and a music box. Upon awakening, she finds the music box in Luthor mansion and sets out to find out who planted it there. Clark accompanies her to an orphanage run by Granny Goodness who may not have the young girls' best intentions in mind. One of the young women living there, Harriet, finds Clark snooping around and decides to take matters into her own very sharp hands.
Finale, Part 1 (written by Al Septien & Turi Meyer)
Notes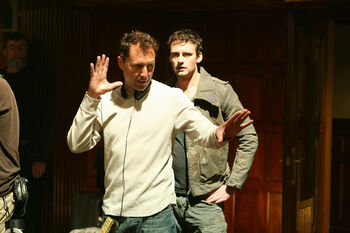 Ad blocker interference detected!
Wikia is a free-to-use site that makes money from advertising. We have a modified experience for viewers using ad blockers

Wikia is not accessible if you've made further modifications. Remove the custom ad blocker rule(s) and the page will load as expected.