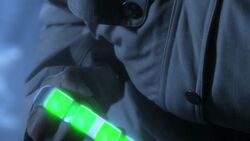 A Kryptonite knuckle is a brass knuckle laced with Kryptonite.
Season Nine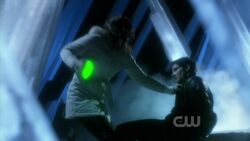 When Tess Mercer confronts Zod at the Fortress of Solitude, she used one pair of Kryptonite knuckle in an attempt to prevent Zod from ruling Earth in tyranny like he had in that alternate future she had witnessed. She begins to beat him severely until Zod managed to get a safe distance away from the kryptonite knuckle's radiation and launches a counter attack against her for her treachery by incinerating half her face and body with his heat vision leaving her their to die until she was found and rescued by Clark Kent.
Appearences
Ad blocker interference detected!
Wikia is a free-to-use site that makes money from advertising. We have a modified experience for viewers using ad blockers

Wikia is not accessible if you've made further modifications. Remove the custom ad blocker rule(s) and the page will load as expected.