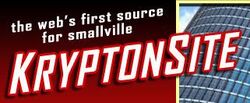 Kryptonsite is a fan website devoted to the show Smallville. It was one of the first sites for the show, providing fans with Smallville news since February 2001. Its webmaster, Craig Byrne also wrote the books Smallville: The Visual Guide and Smallville: The Official Companions for seasons 4, 5, 6, and 7, and additionally, he appeared on the Smallville Complete Series documentary feature.
The site includes general news and information, an episode guide spoilers and rumors from upcoming episodes, music from the show, and a message forum for fans to discuss the show. KryptonSite still exists as a Smallville hub and still updates via Twitter @KSiteTV.
External links
Ad blocker interference detected!
Wikia is a free-to-use site that makes money from advertising. We have a modified experience for viewers using ad blockers

Wikia is not accessible if you've made further modifications. Remove the custom ad blocker rule(s) and the page will load as expected.