This article is about Lex of Earth-2. For his Earth doppelganger, see Lex Luthor.

Lex Luthor was Lex Luthor's doppelganger from Earth-2. He was Lionel Luthor's flesh and blood and Clark Luthor's adoptive brother.
Early life
Lionel raised Lex with his adopted son, Clark and his younger daughter, Tess Luthor, training each of them to be his heir and pitting them against one another in the hopes that one of them would prove a worthy successor to his empire, but Lionel hoped that Clark would prove the most worthy. This led to an antagonistic relationship between Lex and Clark, and the fact that Lionel was more supportive towards Clark, made Lex jealous of his adopted brother, making their relationship even worse.
Lex used to study meteor-infected individuals. However, it is implied that he never hurt them and it was with benevolent intentions and to oppose his father and adoptive brother.
At some point prior to 2005, Lex branded the family crest on Clark's arm using gold kryptonite, and then was murdered by Clark in retaliation - with Lionel's approval.
Season Ten
Lionel started to regret Lex's murder. When Lionel was beating up Clark (who was actually Clark Kent unknown to Lionel), he made it clear to Clark that he regretted letting Lex end up murdered.
After escaping into Earth-1, Lionel still felt guilty for choosing Clark over Lex (who he referred to as "his own flesh and blood") so he tried to take "Alexander Luthor"/Conner Kent to his side as his "son" as an attempt to "repair" his relationship with Lex with the first attempt ending in failure when the genetically engineered version of Lex discovered that Lionel had let Clark murder Lex in Lionel's world and the second attempt ending in failure when the hybrid clone of Clark and Lex chooses to not be with Lionel after his kryptonite ring was destroyed. In the end Lionel sacrificed his life to Darkseid so Lex of Earth-1 would live again, finding the redemption he was seeking for his son's death.
Appearances
In the comics
The version of Lex Luthor who is traditionally associated with Ultraman, is Alexander Luthor Sr. from Earth-3.
He was inspired by Lois Lane to fight the Crime Syndicate of America and become his Earth's first and only superhero. He then married Lois Lane and they later had a son named Alexander "Alex" Luthor Jr. In Crisis on Infinite Earths Alexander sees his universe being destroyed. In a last ditch effort to save his son, he sends him to another universe, (Earth-1) to be safe. He then dies with his wife Lois and the rest when his universe Earth-3 is destroyed. Making his son the only survivor of his universe. An obvious parallel to the Superman origin story.
In the JLA: Earth 2, the heroic Luthor traveled from his Earth (located in the anti-matter universe) to the mainstream DC Earth, posed as his villainous counterpart, and subsequently asked the Justice League to help him rebuild his world. However, since "evil always wins" in his world, the attempt failed, and Luthor resigned himself to being the only noble character on his Earth.
In the New 52, Alexander Luthor is once again a native of Earth 3 and he is his Earth's equivalent of the superhero Shazam. The lightning of Mazahs gives him the ability to channel the powers of the superpowered people he has killed.
Alexander, who is considered to be Crime Syndicate's greatest enemy having killed many of its members, was brought to Prime Earth by them. When the villains sought refuge in the fallen Justice League Watchtower, he was brought there and imprisoned. Grid and the Outsider kept him sedated while the Syndicate wrought havoc upon the world. When the Injustice League infiltrates the Watchtower, Owlman instructs the Outsider to free their other prisoner, Nightwing, from whatever confinements Grid had imposed upon him but he disobeys and attempts to secure Alexander instead of Dick. Black Manta and Captain Cold locate Alexander first, but are stopped from freeing him by Johnny Quick and Atomica. When they remove the tape covering Alexander's mouth, he speaks the magic word, Mazahs! A dark lightning immediately hits him and he gets transformed into the powerful Mazahs. He kills Johnny Quick and absorbs his power before snapping his neck. He then holds Johnny's corpse as he declares the deaths of everyone else in the Watchtower, and that he will become the greatest hero this world has ever seen.
It is revealed that Alexander has been working with the Syndicate's Superwoman (alternate version of Wonder Woman and Lois Lane from Earth 3), as he is her lover and the father of her unborn child. She manipulated the Syndicate into bringing him to Prime Earth. Alexander proceeds to battle Ultraman, who says to him that he should have killed him back in Earth 3 but Alexander says that Ultraman was still worrying about the being that destroyed their homeworld and after he kills all the members of the Syndicate, absorbing their powers, he will destroy that being too. Alexander, while taking Ultraman out, says that Clark used to be stronger but after Alex killed all of Ultraman's teammates and took their powers, he is far more powerful than him now. Then he and Superwoman attack Deathstorm, with Lois subduing him with her lasso, while Alexander kills him by smashing his skull, making him explode and taking his nuclear power, something that he was craving for years. After that Alexander attacks the Injustice League taking them all out but when he attacks Lex Luthor, Bizarro intervenes and starts to fight with him until Alexander kills the creature, much to his doppelganger's frustration. Lois later says to him that they will make this Earth into such a perfect world for their child. Suddenly he is attacked by Black Adam and Sinestro, who strikes him with a lightning rod. Superwoman attempts to kill Black Adam but he shouts the word "SHAZAM" and a lightning bolt strikes Alexander, as the rod has drawn it to him instead of Adam, and also taking Superwoman out. Alexander seems to be unharmed by the lightning and immediately attacks Lex Luthor saying that Lex is a much weaker version of him, as he is better in every way. Lex says this might be the case but they are still the same person and he sounds exactly like him so he touches the rod on Alexander's chest and shouts the word "MAZAHS". Alexander gets hit by the lightning, which turns him back to human and then Lex stabs him with a knife while covering his mouth, so he can't speak of the magic word again, killing him once and for all.
Notes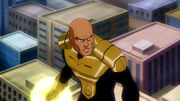 An alternate version of Lex Luthor, living in a world, where Superman and the League ruled the Earth with fascism appeared in the animated TV series Justice League voiced by Clancy Brown. There Lex was the President of The United States, who executed the Flash (alternate version) and set into motion events capable of causing an all-out war and in retaliation, Flash's teammates attacked the White House resulting in the death of Lex by Superman's hand. President Luthor's plans was most likely why the Justice Lords (alternate version of Justice League) took a fascist outlook for the Earth's protection.
The alternate Lex Luthor, who is from the same world as Ultraman, appeared in the animated movie Justice League: Crisis On Two Earths voiced by Chris Noth. There he was the former leader and the only surviving member of his world's Justice League, fighting against the Crime Syndicate.
See also