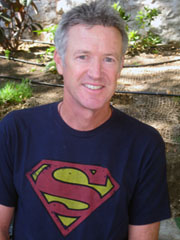 Marc McClure (born March 31, 1957) is an American actor. He played Dax-Ur on the Season 7 episode "Persona".
One of his best known roles is Jimmy Olsen in Superman: The Movie, its three sequels and Supergirl (along with Helen Slater, who played the title character). He is the only actor to appear in all five films. He also appeared as himself in the featurettes Taking Flight: The Development of Superman and Making Superman: Filming the Legend in the 2001 release of Superman: The Movie.
He also played a character named Boris in both the 1976 and 2003 versions of Freaky Friday.
Another one of his known roles was Marty McFly's older brother Dave in the Back to the Future trilogy (though he only appeared in the final versions of the first and third film, the second movie contained a deleted scene with Dave).
Aside from his single appearance in Smallville Season 7, he appeared along with Sam Huntington, Jack Larson and Aaron Ashmore for the Jimmy on Jimmy feature for the Season 7 DVD.
McClure ended up in another DC Comics production as Officer Ben Sadowsky in the film Justice League.
Note
Coincidentally, one of the songs played in Back to the Future was Earth Angel, which was used in the episode Relic.
External links
Ad blocker interference detected!
Wikia is a free-to-use site that makes money from advertising. We have a modified experience for viewers using ad blockers

Wikia is not accessible if you've made further modifications. Remove the custom ad blocker rule(s) and the page will load as expected.