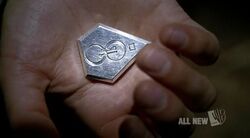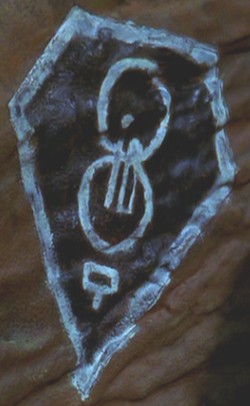 The memory pendant is a Kryptonian device used to record memories that occurred in a given time as interactive experiences.
Physical Appearance
The design of the memory pendant that Jor-El used is the Kryptonian symbol for "journey," and was based on the original symbol of the House of El, suggesting that it may have been passed down through many generations of the family.
Powers and Abilities
When holding the memory pendant, touching an object that the original user encountered during the time that he recorded the memory triggers the device; the new user experiences the memories associated with the object.
Early life
Jor-El used the memory pendant to record his memories from his visit to Smallville in 1961 and sealed it a compartment in the Kawatche Caves so that his father would not learn of his experiences.
Season Three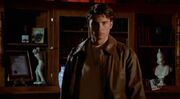 In 2003, Jor-El's son Clark Kent, recovered the device and used it to solve the murder of Lana Lang's great-aunt Louise McCallum.
Ad blocker interference detected!
Wikia is a free-to-use site that makes money from advertising. We have a modified experience for viewers using ad blockers

Wikia is not accessible if you've made further modifications. Remove the custom ad blocker rule(s) and the page will load as expected.