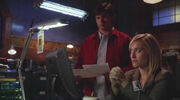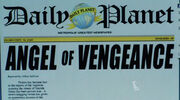 The process of naming superheroes as well as supervillains on Smallville tends to happen in one of several ways.
In some cases, a journalist will make up a name, and the name will stick due to their press coverage; soon the superhero is referring to themselves by their new name as well. As a journalist for the Smallville Torch and Daily Planet, Chloe Sullivan has been involved in naming several of the superheroes. While covering the Green Arrow for the Metropolis Inquisitor, Lois Lane gave him his name (with a little help from Chloe). Lois Lane can also be credited on changing The Blur into Superman. Clark Kent has also been shown naming a few superheroes and villains such as the Wonder Twins and The Toyman
In other cases, members of Oliver Queen's team of superheroes picked their own names (or had names assigned to them). Some of these code names are not known to the public; Clark Kent's code name of "Boy Scout" has not been referenced by anyone outside of his inner circle.
Known Namings
Quotes
---
---
---
---
---
---
---
---
---
Notes
Chloe Sullivan has been involved in the naming of both Green Arrow and Black Canary. She herself named the "Angel of Vengeance" and was the first to refer to the entity known as Martian Manhunter as such. She was also first to call Kara Kent "Supergirl" and the first to refer to Eric Summers as "Superboy" (Leech).
Lois Lane named Green Arrow through a news article she wrote, in a similar manner to how she named Superman in the first movie, Superman: The Movie.