Ad blocker interference detected!
Wikia is a free-to-use site that makes money from advertising. We have a modified experience for viewers using ad blockers

Wikia is not accessible if you've made further modifications. Remove the custom ad blocker rule(s) and the page will load as expected.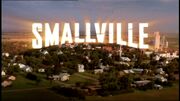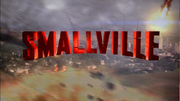 The episodes of the Smallville TV Series generally start with a short introduction (or flashback), followed by the opening credits. These opening credits differ from season to season. In the opening credits of each season, the regular cast members of the season are indicated. Also credited are Jerry Siegel and Joe Shuster, the creators of Superman, as well as Alfred Gough and Miles Millar who developed the Smallville TV series.
General form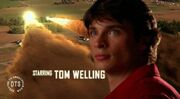 The opening credits start with the title of the show, followd by short clips from episodes of this or earlier seasons in which a specific character appears. The head of the character and the name of the actor are then superimposed to one of the clips. From season 5 on, the background settings for the actors' credits have a red margin on both sides.
Generelly, 7 or 8 regular cast members are presented in each season, only seasons 9 and 10 have less credits. The main cast changes from season to season, only season 3 has the same main cast as season 2. In total, 17 actors are presented in the opening credits of the 10 seasons.
The music underlying the opening credits is the song Save Me by rock band Remy Zero which is performed live by the band in the season 1 finale Tempest and was shortened to 50 seconds for the opening credits.
Character appearances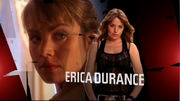 Even if the opening credits are the same fro each episode of a season, this doesn not imply that the main characters portrayed by the credited cast members appear in each episode.
Some main characters appear only in a bit more than half the episodes in which they are credited. Further, a main character may already have been appeared in earlier or still may appear in later episodes than the seasons in which he is credited.
For a more detailed explanation of the appearances of the main characters in the episodes of each season refer to the articles Character appearances and Main character absences.
Season credits
The following table shows which cast members appear in the opening credits of each season. For a more detailed description of the opening credits use the link to the opening credits article of the corresponding season at the top of the table.
↑ In the original airings of the first 2 episodes (Crusade and Gone) she was not included in the opening credits to create the illusion that she had died.
↑

exclusively for episodes she appears in
Gallery
→ see also Category:Screencaps of opening credits
Michael Rosenbaum as Lex Luthor
Eric Johnson as Whitney Fordman
Allison Mack as Chloe Sullivan
Annette O'Toole as Martha Kent
John Schneider as Jonathan Kent
Laura Vandervoort as Kara Kent
Cassidy Freeman as Tess Mercer
Justin Hartley as Oliver Queen
See also