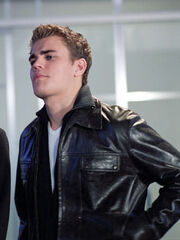 Paul Wesley is an US American actor. He was born as Paul Thomas Wasilewski on July 23, 1982 in New Brunswick, New Jersey. His parents came from Poland and were emigrated to the United States shortly before Paul's birth.
Paul Wesley is especially known for his roles as Stefan Salvatore in the TV series The Vampire Diaries and as Aaron Corbett in the TV miniseries Fallen. In the TV series Smallville, he portrayed Lucas Luthor in the Season 2 episode Prodigal.
External links
Ad blocker interference detected!
Wikia is a free-to-use site that makes money from advertising. We have a modified experience for viewers using ad blockers

Wikia is not accessible if you've made further modifications. Remove the custom ad blocker rule(s) and the page will load as expected.