Reeves Dam is a man-made dam in Kansas, which appears be located near Smallville. Smallville has its own dam (Smallville Dam) which holds back Morley Reservoir.
Appearances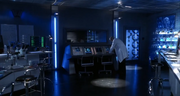 Reeves Dam was the location for several important scenes in Season Six and Season Seven.
Notes
The name Reeves Dam may refer to two former Superman actors, Christopher Reeve and George Reeves, stars of the first four Superman movies and Adventures of Superman respectively.
The spelling of "Reeves Dam" has been established in two ways. The mobile GPS on Lois's phone clearly says "Reeves Dam" in the episode. In addition, the CW promotional materials for the episode Phantom reference a "Reeves Dam".[1]
The setting for Reeves Dam is at Ruskin Dam in Mission, British Columbia. [citation needed] However when the satellite is zooming in onto Kansas, the image is of the dam in front of the Marion reservoir. [citation needed]
Reeves Dam is located at coordinates, as Lois Lane discovers, at 38°52' N, 95°32'W. This location in real life is in the extreme northeastern corner in Osage County, Kansas.
References
Ad blocker interference detected!
Wikia is a free-to-use site that makes money from advertising. We have a modified experience for viewers using ad blockers

Wikia is not accessible if you've made further modifications. Remove the custom ad blocker rule(s) and the page will load as expected.