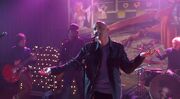 Remy Zero
was a rock band made up of Cinjun Tate (vocals, guitar), Shelby Tate (guitar, keyboards, vocals), Gregory Slay (drums, percussion), Cedric Lemoyne (bass guitar), and Jeffrey Cain . They wrote the song
Save Me
, which was later featured as the theme song for
Smallville
. Remy Zero also appeared in the episode
Tempest
as themselves (performing for the high school dance). The band broke up in 2003.
Notes
Clark, Pete, and Chloe are Remy Zero fans.[1]
Unfortunately, Gregory Slay died on January 1, 2010.
References
Ad blocker interference detected!
Wikia is a free-to-use site that makes money from advertising. We have a modified experience for viewers using ad blockers

Wikia is not accessible if you've made further modifications. Remove the custom ad blocker rule(s) and the page will load as expected.