The following is a list of commercial music used in the
third season
of Smallville.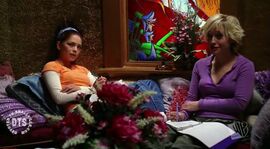 "Girls & Boys" - Good Charlotte
"Hey Mama" - The Black Eyed Peas
"Frantic" - Metallica
"All The Stars" - Eastmountainsouth
"Calling All Angels" - Train
"Goodtalk" - Shocore
"Maybe Tomorrow" - Stereophonics
"In The Sky" - Ginger
"Salut Demeure" - Charles Gounod
"White Flag" - Dido
"Way Away" - Yellowcard
"Give It To Me" - Vishiss
"I Give, You Take" - Maria
"Goodbye Again" - Vertical Horizon
"Imitation of Life" - R.E.M.
"Everybody Hurts" - R.E.M.
"Losing My Religion" - R.E.M.
"Bad Day" - R.E.M.
"At My Most Beautiful" - R.E.M.
"I Love This Bar" - Toby Keith
"Arms Down (Demo Version)" - Xolie Morra
"Blue" - LeAnn Rimes
"Crossroads" by Lizzie
"I'll Be Okay" - Q
"Walkin' In Memphis" - Lonestar
"Matchbox" - Carl Perkins
"In Your Eyes" - Aaron D.
"I Only Have Eyes For You" - The Flamingos
"Earth Angel (Will You Be Mine)" - The Penguins
"Amazing" - Josh Kelley
"Over You" - Michelle Featherstone
"Hey Now" - Black Toast Music
"Trouble" - Bonnie McKee
"Stupid Girl" - Cold
"Trouble" - Pink
"She'll Be The One" - Bosshouse
"Hurt" - Johnny Cash
"Future Proof" - Massive Attack
"So Far Away" - Staind
"Cold and Empty" - Kid Rock
"Try" - Nelly Furtado
"So Damn Lucky" - Dave Matthews
"The Reason" - Hoobastank
"100 Years" - Five for Fighting
"I Owe You" - Stegala Music
"Rhapsody on a Theme of Paganini" - Sergei Rachmaninoff
"Two Steps Closer" - Static
"Evilution" - Shocore
"Fix Up, Look Sharp" - Dizzee Rascal
"The Way I Am" - Knoc-Turn'Al
"You Know" - Saq
"Rawkfist" - Thousand Foot Krutch
"Wonderwall" - Ryan Adams
"Last Call" by Barry Schleifer
"One Thing" by Finger Eleven
"Parking" by The Fuzz
"Echo" by Blake Hight
"Setting of the Sun" by Ben Jelen
"Infatuation" - The Rapture
"Everything (Radio Edit)" - Alanis Morrissette
"Maybe" - Jim Gorman
"Coming Around" - Melodine
"Les Pecheurs De Perles (Je Crois Entendre Encore)" - Georges Bizet
"Once In A Blue Moon" - Edie Brickell
"Love's Divine" - Seal
"Mona Lisa" - Grant-Lee Phillips
"Someday" - Fastball
"Selling Out" - The Fuzz
"Forever" - Jennie Cathcart
"Better Don't Do" - Ing
"Stabat Mater" - Paul Schwartz
"My Immortal" - Evanescence
"Chase Me" - Katie Herzig
"From Afar" - Red Letter Day
"Reason Why" - Rachael Yamagata
"I Don't Know What You're Thinking" - Christopher Jak
"When The Sun Goes Down" - Charlie Mars
"La Fille Du Regiment (Convien Partir)" - Gaetano Donizetti
"One Moment More (acoustic)" - Mindy Smith
"Requiem: I. Introitus: Requiem Aeternam" - Mozart
Notes
Slumber is one of only two episodes of Smallville in which only one artist's music is featured throughout the episode (each song used in Slumber was by R.E.M.).
See also