The following is a list of commercial music featured in the
fourth season
of Smallville.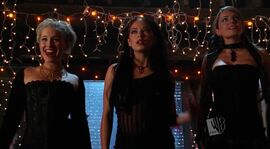 "Better Days Will Come" - Tahiti 80
"O Euchari" - Hildegard Of Bingen
"Plus Pres De Moi" - san.drine
"Flower Duet (from 'Lakme')" - Delibes
"Faraway" - Dara Shindler
"She Will Be Loved (acoustic)" - Maroon 5
"Eight Half Letters" - Stereoblis
"Devils And Angels" - Dishwalla
"F**k N' Spend" - High Speed Scene
"What Do You Do In The Summer (When It's Raining)" - Beu Sisters
"Ghetto" - John Gold
"My Happy Ending" - Avril Lavigne
"Better Off By Myself" - Bosshouse
"Revolution" - Authority Zero
"California" - Hawk Nelson
"Medicated" - Sub Space Radio
"Meltdown" - Ash
"On The Run" - Sam Roberts
"Disco MF" - The Penfifteen Club
"Our Mystery" - Bebo Norman
"Don't Say Nuttin'" - The Roots
"Welcome To My World" - Kyle Newacheck
"Cruel Sun" - Silver
"Feels Like Today" - Rascal Flatts
"Walk Idiot Walk" - The Hives
"I Believe" - Shiloh
"Fall Behind Me" - The Donnas
"I'm All Gone" - Bosshouse
"Boulevard Of Broken Dreams" - Green Day
"Reach For The Sky" - Social Distortion
"Impromptu No. 2 In E Flat" - Schubert
"Blame" - Black Toast Music
"What You Waiting For?" - Gwen Stefani
"We Might As Well Be Strangers" - Keane
"Chopin Etude, Opus 10, No. 3 in E Major: Lento, ma non troppo" - John Rusnak
"I Want More: Part 2" - Faithless
"Daddy's Little Girl" - Amanda O'Connor
"Laura" - Scissor Sisters
"Beautiful Soul" - Jesse McCartney
"Life for Rent" - Dido
"Welcome To My Life" - Simple Plan
"It's Now Or Never" - Elvis Presley
"Funny Little Feeling" - Rock N Roll Soldiers
"Break So Easy" - Jonathan Rice
"I Love Rock 'N' Roll" originally by Joan Jett. Performed by Erica Durance and Allison Mack.
"Die For" - Dan Zweben
"Deeper Water" - Minnie Driver
"Wonderful Night" - Fatboy Slim
"It's All Behind" - Anthony Michaelanglo
"The Thunderer" - APM Music.
"Finding Out True Love Is Blind" - Louis XIV
"Wild West Show" - Big & Rich
"How Could this happen to me" - Simple Plan
"Anodyne" - Speechwriters LLC
"Give A Little Bit" - Goo Goo Dolls
"Hold On" - Newcomers Home
"Club Foot" - Kasabian
"I Hold On" - Newcomers Home.
"Spaghetti Streetwalker" - Speechwriters LLC
"Violin Sonata No. 1 in G Major (Allegro Molto Moderato)" - Brahms.
"Fly" - Mark Joseph
"I Drive Alone" - Esthero
"Come Back Down" - Lifehouse
"Higher Mathematics" - Split Habit
"Good To Know" - Tim Cullen
"La La" - Ashlee Simpson
"Not Gonna Wait" - Lamar
"Blind" - Lifehouse
"Undone" - Lifehouse
"You and Me (Wedding Version)" - Lifehouse
"24" - Jem
"Satie" - Paco
"Let Me Go" - 3 Doors Down
"This Is Your Life" - Switchfoot
No Commercial Music Used In This Episode.
"Ms. Vandersanden" - Split Habit
"On The Down" - Tim Cullen
"Around The Way" - Wonderlife
"Pomp & Circumstance" - Edward Elgar
Notes
See also