The Season 5 opening credits appear near the beginning of each Season Five episode.
Cast Credits
Of the regular cast members of Season Four, Jensen Ackles has been replaced by Erica Durance who already had recurring appearances in season 4.
The cast is credited in the following order.
Screenshots
→ See also Category:Screencaps of opening credits from season 5
In the following, the settings which are included in the opening credits of season 5 are listed. Only few of the settings have been maintained from the opening credits of prior seasons. Most of the settings are newm ainly takn en from the season 3 episodes Slumber and Perry and from the season 4 episodes Crusade and Commencement. Ironically, there are no scenes from Season 5 in these opening credits. Even the beginning of the opening credits, which had been the same in seasons 1 through 4, has been changed. This new beginning is maintained for all the following seasons.
The style of the credits has been changed, too. The hair of the actors or actresses shown in the foreground is blowing in the wind, and the background setting is featured with a red margin on both sides. This style of the credits as well as the shot of the characters in the foreground are maintained for all the following seasons, only the background settings may change.
Episode indicates the episode from which the corresponding setting is taken.
Used indicates the season or seasons in which the corresponding setting is used for the opening credits.
Notes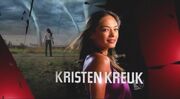 Kristin Kreuk's name was misspelled as "Kristen" in the original broadcast of Arrival, but this was corrected for the other episodes of season 5 and for the subsequent reruns of Arrival.