Season Summary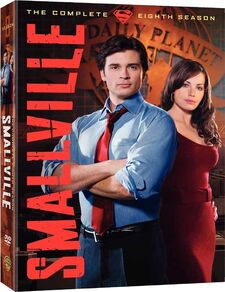 Season Eight began a few weeks after the Fortress' icy collapse, as new LuthorCorp executive Tess Mercer investigated Lex's whereabouts. With Lex out of the way, Clark had to face two new foes: Tess Mercer and Davis. Tess proved to be as inscrutable as she is cunning, and became an enigmatic new presence in everyone's lives. It wasn't long before Tess' attention turned to Clark.
This season, Clark Kent moved closer than ever to embracing his destiny as the iconic superhero he will become. Spending less time in his hometown and more time in the big city of Metropolis, Clark came across a multitude of DC characters (including Plastique; the Legion of Super-Heroes; Winslow Schott; Zatanna; and more) as he began his career at the Daily Planet working opposite Lois Lane. With Clark and Lois thrust into such close proximity, sparks began to fly and feelings started to surface that came as a surprise to both of them. At the same time, Clark began to realize the balancing act he must perform as he explored his dual identities as both reporter and superhero. Clark soon discovered he wasn't the only Kryptonian on Earth, as the "Ultimate Destroyer" threatened the human race.
Clark was not alone in facing formidable challenges this season. Oliver Queen found himself at a crossroads, forced to travel through some dark terrain – especially when demons from his past were reawakened. Oliver ultimately began to question his role as a superhero, just as Clark was embracing his own.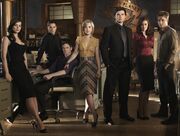 After Brainiac's attack on Chloe Sullivan at the end of last season, she developed new abilities, which she hid from Jimmy Olsen. She accepted Jimmy's marriage proposal but became surprisingly open to a new acquaintance, Davis Bloome. Davis and Chloe quickly developed a friendship, but it soon became clear that he had a secret of his own. Trying to juggle her new career at the Isis Foundation, planning a wedding, her growing relationship with Davis, her Brainiac infection, and her ongoing commitment to Clark, Chloe had her hands full this year.
Kara Kent returned after she was freed from the Phantom Zone and went in search of Kandor, the lost city from Krypton. Lana Lang also returned to Smallville to finally complete her revenge on Lex Luthor by stealing his last life-line, a power-suit. Lana's return was short-lived when Lex forced Clark and Lana to part for good by contaminating her with kryptonite. Lex was then killed by Oliver, but Lex's knowledge of Clark was passed on to Tess through a series of journals.
Jimmy made it his mission to investigate Metropolis' newest mysterious hero, whom he nicknamed "the Red-Blue Blur," and came dangerously close to unearthing Clark's secret while simultaneously planning his wedding to Chloe. As he thought his life was coming together, everything was ripped apart by Doomsday and Jimmy was hospitalized with life-threatening injuries. As he recovered from his attack, he became addicted to drugs and soon ended up facing the beast for a second time.
As the Justice League, Chloe, Tess, Jimmy and Clark tried to overcome Doomsday in their own ways, the lives of everyone hung in the balance, especially as Doomsday's defeat was linked to the Orb. The orb convinced Tess that she would be the savior of Kandor. However, it soon released something more ominous, a naked man appeared surrounded by the symbol of Zod burned into the ground, posing a new threat in Clark's future.
The series, based on DC Comics characters, was developed for television by Alfred Gough and Miles Millar and is executive produced by Kelly Souders, Brian Peterson, Todd Slavkin, and Darren Swimmer. Superman was created by Jerry Siegel and Joe Shuster. (Source: KryptonSite)
Opening Credits
The Season 8 credits mostly include footage from seasons 4-7, and the Season 8 episodes Odyssey and Plastique. The credits for each episode include the following:
Recurring Characters
The following Recurring Characters appear in more than one episode this season:
The following Recurring Characters appear in only one episode this season, but also appear in other seasons:
Recurring Locations
Episode List: 2008-2009
Image
Title
Writer(s)
Director(s)
Airdate
#

Odyssey-JusticeLeague.png
{{{name}}}
Original airdate
September 18, 2008
Season chronology

802Smallville0591.jpg
{{{name}}}
Original airdate
September 25, 2008
Season chronology

Lois and Oliver toxic.jpg
{{{name}}}
Original airdate
October 2, 2008
Season chronology

MaximaInInstinct.png
{{{name}}}
Original airdate
October 9, 2008
Season chronology

CommittedClois.png
{{{name}}}
Original airdate
October 16, 2008
Season chronology

PreyImageWiki.png
{{{name}}}
Original airdate
October 23, 2008
Season chronology

IMAGE001162.jpg
{{{name}}}
Original airdate
October 30, 2008
Season chronology

Bloodline0250.jpg
{{{name}}}
Original airdate
November 6, 2008
Season chronology

Chloe Abyss.jpg
{{{name}}}
Original airdate
November 13, 2008
Season chronology

810Smallville0350.jpg
{{{name}}}
Original airdate
November 20, 2008
Season chronology

811Smallville1159.jpg
{{{name}}}
Original airdate
January 15, 2009
Season chronology

J'onn J'onzz shot.JPG
{{{name}}}
Original airdate
January 22, 2009
Season chronology

PowerImageWiki.png
{{{name}}}
Original airdate
January 29, 2009
Season chronology

S8e14-3305.jpg
{{{name}}}
Original airdate
February 5, 2009
Season chronology

InfamousArticle.png
{{{name}}}
Original airdate
March 12, 2009
Season chronology

816Smallville0862.jpg
{{{name}}}
Original airdate
March 19, 2009
Season chronology

HexImageWikiNew.png
{{{name}}}
Original airdate
March 26, 2009
Season chronology

818Smallville0949.jpg
{{{name}}}
Original airdate
April 2, 2009
Season chronology

Normal_819Smallville0276.jpg
{{{name}}}
Original airdate
April 23, 2009
Season chronology

S08e20 (12).png
{{{name}}}
Original airdate
April 30, 2009
Season chronology

S08e21 (2).png
{{{name}}}
Original airdate
May 7, 2009
Season chronology

S08e22_(5).png
{{{name}}}
Original airdate
May 14, 2009
Season chronology

|}

Cast

This is only the second season (along with Season Six) to have only seven main cast members, including: Clark, Chloe, Lois, Jimmy, Davis, Tess, and Oliver. All the other previous seasons had 8 cast members. This season has the most cast changes with 4 cast members leaving and 3 new cast members joining, leaving only 2 of the original cast.
As of this season, Smallville loses half its cast. Lex, Lana, Lionel and Kara are no longer regular cast members. This is the first season where Michael Rosenbaum and Kristin Kreuk are not series regulars. Laura Vandervoort and John Glover also do not return as series regulars.
Season Eight has a significant change in the number of appearances of its main cast. This is likely due to the rumored budget cuts. Previous seasons had the four lead characters; Clark, Lana, Lex and Chloe, appear in most if not all of the episodes, whereas secondary characters appear in anything from 13-22 episodes. However, as of this season, only Tom Welling and Allison Mack were contracted to appear in all episodes, while the remainder of the cast only appeared in 12-13 episodes, although Aaron's twelfth appearance in Hex was cut (something which also happened to him in Traveler last year).
Despite leaving the show as a regular cast member, Kristin Kreuk returned for five episodes starting with Bride and ending with Requiem.
Two new antagonists joined the cast: Tess Mercer played by Cassidy Freeman and Davis Bloome aka Doomsday played by Sam Witwer. Davis Bloome was written out of the series by the end of the season as he was killed after he was seperated from his kryptonian persona by black kryptonite.
Justin Hartley reprised his role as Oliver/Green Arrow but this time he was promoted to series regular.
Despite Laura Vandervoort not being a main cast member this season, she returned as a guest star in Bloodline.
This is the first season which shows Lois Lane's hair color change from dirty-blonde to brown.
James Marsters expressed interest in more appearances as Brainiac. However, to continue the storyline of Brainiac the producers explored the result of his confrontation with Chloe in Arctic, which resulted in her receiving his powers as he slowly took possession of her. This storyline was an ongoing theme in the first 8 episodes, but took focus in Abyss and was used as a mid-season finale in Bride. It concluded in Legion with Brainiac being sent to the future. Despite Allison Mack being used to represent Brainiac as Chloe, Marsters reprised his role as the voice of Brainiac in Abyss, but was uncredited.[2]
This season featured the most recurring appearances of Justice League members with Alan Ritchson and Alaina Huffman reprising their roles in this season's premiere as Arthur Curry and Dinah Lance respectively. Alaina Huffman also reappeared for the season finale Doomsday, along with Kyle Gallner as Bart Allen.
Phil Morris returned as Martian Manhunter for multiple episodes, including Odyssey, Prey and Bulletproof.
Despite Michael Rosenbaum's departure, Lex remained very present in the show with Tess carrying out his orders for the first half of the season. He also reappears in Bride, as a silent, obscured character (explained by his injuries sustained after the Fortress of Solitude collapsed in Arctic) and is apparently killed at the end of Requiem. However, none of Lex's appearances in this season are played by Michael Rosenbaum. [3]
This was Aaron Ashmore's last season as a main cast member as Jimmy was killed in the season finale.
As of Doomsday, every main character except Lois knows Clark's secret.
Allison Mack appeared in all 22 episodes this season, but the character Chloe Sullivan did not appear in Injustice.
Kara and Lana are the only two former main characters to appear in Season 8.

Notes

Miles Millar and Alfred Gough left Smallville at the end of Season 7 and had no involvement with season 8. [4] Todd Slavkin, Darren Swimmer, Kelly Souders and Brian Peterson took over as Executive Producers after writing or producing for the show since Season Two.
From the first episode of Season 8, Clark and Chloe are the only characters to appear as main cast members in every season, although Clark is the only one to appear in every episode.
With Kristin Kreuk's guest appearances this year, she is the third character to appear in every season from Season One up to Season Eight.
Allison Mack and Erica Durance both portray three different characters this season. Allison plays Chloe, Brainiac possessing Chloe's body (Legion), and Eva Greer disguised as Chloe (Injustice). Erica plays Lois, Faora possessing Lois' body (Bloodline), and Chloe who has been transformed into Lois (Hex).
Allison Mack made her directing debut in episode 13, Power. Due to the writer's strike, she was unable to direct any episodes last season.
In an annual fashion, Tom Welling directed Injustice, his fourth time directing a episode after Fragile, Hydro, and Apocalypse. He was originally set to direct Hex but this was re-scheduled due to him being ill during the time he was given to prepare.
There are sixteen DC Comics characters that appear for the first time in this season, making a record: Davis; Bette Sans Souci (Plastique); Maxima; Faora; Persuader; the three founding members of the Legion of Super-Heroes: Rokk Krinn (Cosmic Boy), Imra Ardeen (Saturn Girl), and Garth Ranzz (Lightning Lad); Dan Turpin; Emil Hamilton; Winslow Schott (Toyman); Zatanna; Bruno Mannheim; and a proto-Injustice League featuring Plastique, Parasite, Livewire and Neutron. (However, Neutron's role is limited to a non-speaking part.)
A seventeenth DC Comics character could be said to appear for the first time this season: Jimmy Olsen. As the show's Jimmy Olsen is laid to rest following his death, his full name is revealed to be Henry James Olsen. Chloe meets Henry's younger brother at the funeral and gives him Henry's camera.
Chloe apparently died three times this season; in the alternate reality when she discovered Davis was Doomsday (Infamous), in Jimmy's drug-induced hallucination where he saw Doomsday killing her (Turbulence), and when Tess triggered the explosive chip in her head, however it was actually Eva Greer who had shape-shifted into the form of Chloe (Injustice).
Darren Swimmer and Todd Slavkin left the series after this season. [5]
Black kryptonite reappears for the first time since Season Four.
This the first season since Season Two that Red kryptonite hasn't been used or acknowledged.
Scenes from Pilot are shown during Eternal with a new perspective, as it is revealed Davis Bloome also fell to Earth that day.
Chloe and Jimmy get married, which is the third onscreen wedding on the show. The last one being in Season Six between Lex and Lana.
This season shows the inside of the Phantom Zone for the second time (Bloodline).
Clark develops a dual identity for the first time, known as the Red-Blue Blur. Lois also tries this with her faux superhero, Stiletto. Meanwhile, Oliver and Davis both struggle with their other identities.

See Also

Promotional gallery

References