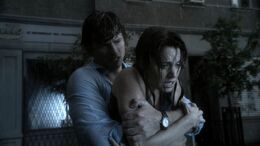 The following is a list of commercial music featured in Season Nine of Smallville.
"Siegfried's Funeral March" - Richard Wagner
"Mmm Mmm Mmm Mmm" - Crash Test Dummies
"One Moment More" - Mindy Smith
"End of the World" - Dead By Sunrise
"Holding Out for a Hero" - Bonnie Tyler
"Feel of Your Laughter" - Linda Nygren
"Smooth" - Car Stereo Wars
"Miles" - Justin Mather
"Love's A Boomerang" - Julie Griffin
You're Stealing - Stuart Roslyn / Vasco
"What Is Not Yours" - Chris Lind
"A Story of Us" - Chris Lind
Notes
Please add notes here.
See also
Ad blocker interference detected!
Wikia is a free-to-use site that makes money from advertising. We have a modified experience for viewers using ad blockers

Wikia is not accessible if you've made further modifications. Remove the custom ad blocker rule(s) and the page will load as expected.