Silence
is the sixth volume in a series of
novels
about
Smallville
.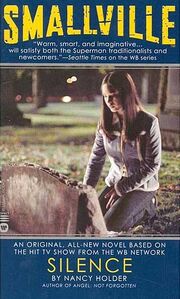 The novel was written by Nancy Holder and printed on November, 2003.
Summary
(Provided on page 40 of Smallville #9)
Clark must discover the connection among a military conspiracy, a decade-old jewelry heist, a tragic local suicide, Lionel Luthor's secret projects, and an army of zombies.
Continuity
This episode takes place sometime during season 2 after Duplicity since Pete knows Clark's secret but no one else. This is most likely after Redux as Terrence Reynolds is mentioned a few times who doesn't appear until that episode (although one could argue that he was around but not referenced before then).
See also
External links