This is the 7th issue of the bimonthly
comic
. It was released in March 17, 2004, though cover dated May 2004.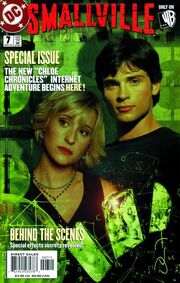 Contents
Comics
Chronicle: Chloe is on her way home only to be attacked. After discovering she is just a kid, the man (whose name is Carter Bickson, though he prefers to be called Bix) reveals himself to be sent by Dr. Walsh. After she and Clark listens to his story about Deletion Force and defending him from the group, Chloe helps him by calling in a favor to arrange for him means of traveling to Mexico. Chloe then decides to continue with the Chloe Chronicles.
Parenthood: After being caught in the rain, Jonathan and Martha look at the ups and downs of raising a son like Clark. Regardless of the setbacks, they have no regrets.
Other Features
Super FX: Special effects article
Voices From The Future: Article from Ezra Small
Episode Synopsis
See also
External links
Ad blocker interference detected!
Wikia is a free-to-use site that makes money from advertising. We have a modified experience for viewers using ad blockers

Wikia is not accessible if you've made further modifications. Remove the custom ad blocker rule(s) and the page will load as expected.