SMALLVILLE: SEASON 11 COMIC
Haunted, Part 1
Series 
Season 11
Number 
9
Writer 
Bryan Q. Miller
Pencils 
Jorge Jimenez
Cover 
Scott Kolins (print)
Cat Staggs (digital)
Inks 
Jorge Jimenez
Colors 
Carrie Strachan
Lettering 
Saida Temofonte
Assistant Editors 
Sarah Gaydos
Editors 
Jim Chadwick
Publication Date 
January 9, 2013
Navigation
Previous Story: Detective, Part 4

Next Story: Haunted, Part 2
Smallville: Season 11 #9 is the ninth issue of the print edition of the DC Comics comic book series. The issue collects the first three chapters of the Haunted story arc, originally released digitally.[1]
Summary
Clark's old friend Bart Allen returns to the series with a new look but carrying a terrible secret. Mysterious "speed storms" break out across the globe, possibly related to Bart's demons. Racing to find answers, Superman and Impulse confront a reluctant ally: the JSA's Jay Garrick. Meanwhile, as Lex hands Tess an ultimatum to reveal everything she knows about Superman or face oblivion, Lois' investigation into him takes a surprising turn. And Chloe's journey through her doppelgänger's memories to reveal her secret turns dangerous.
Recap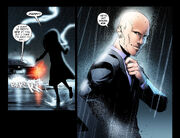 Lex attempts to tap into the memories of his sister Tess' consciousness trapped in his own mind to determine what she knows about Superman. Using a procedure developed by the former LuthorCorp, Lex appears in the memory of the moment Tess was left in the care of Granny Goodness by their father. The grown Tess materializes to help young Lutessa run from their brother down a long hallway. They manage to barricade themselves behind a door. As Lex approaches, he is called to the red door to exit the procedure. Otis informs Lex of an attack on the city that would interest him.
In the city, breakfast for roommates Jeff and Bert is interrupted by Superman crashing through the wall. After apologizing for the mess and disruption, Superman returns to the fracas outside. Dr. Simon Jones, a genius with psychokinetic and telepathic abilities calling himself Psimon attacks the citizens of Metropolis using his powers to levitate and surround himself with a number of metallic orbs. Superman intervenes as Psimon mentally picks up a semi tractor-trailer and attempts to drop it on a small child. As he tries to talk Psimon out of his attack, Lex arrives to offer his own solution. Angered that it was LuthorCorp's experiments that altered him, Psimon turns his attack on Lex. Superman quickly rescues Lex and speeds him away from the scene.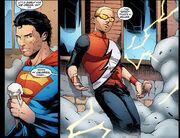 Superman returns to Metropolis after hiding Lex away in Mexico. As he tries to capture Psimon, the criminal's telepathic abilities allow him to "feel" Superman's moves before he makes them and to counteract them. Moving faster than thought, Impulse arrives to help his old friend. The speedster, sporting a new costume, proves too quick for Psimon and is able to punch him into submission. To celebrate, Impulse speeds ice cream cones into the hands of all the nearby citizens, including Superman.
At LexCorp, Lois talks with Otis while waiting to speak with Lex, attempting to get him to admit to his boss' secretly nefarious nature. Lex intervenes, inviting Lois into his office. She confronts him about Psimon and what he intends to do about this and other consequences of the LuthorCorp experiments that granted people such abilities. With Tess chiding him, Lex offers Lois the company line on their corporate responsibility of past transgressions.
Lois reminds him of her first-hand knowledge of Project Ares and how the fall-out of that program brought down Reeves Dam. As Lex shows surprise regarding the dam and the two talk about regret for his actions prior to losing his memories, Tess forces Lex's body to write a note on a Post-It against his awareness, which Lois picks up. On her way out of the office, Lois reads the note and is baffled by its one word: "Help!"
Out in the ocean, Clark and Bart race each other above the water. Bart comments on Clark running slower than he used to, which Clark attributes to now having the ability to fly as well. Clark makes a wager that he can fly faster than Bart can run with the loser paying for lunch. As the two rocket over the coast of Cameroon, a young woman watches from a distance.
Clark arrives in Mumbai, India, assuming that he has beaten Bart. As children swarm him for an autograph, he finds that Bart was not only there first but is playing a game of soccer with some of the locals. Later, as they share food, Clark describes how he can't return to his life as Clark Kent and must remain Superman for the time being due to Lex's irradiation ploy. Research from S.T.A.R. Labs has revealed that his healing ability from the rays of the sun is slowly curing the radiation. Bart suggests he fly into the sun to speed up the process and burn the rest of it away, but Clark tells him that Emil isn't sure they could stop the process from eventually turn him into raw energy if he tried it.
Though he's happy to spend some time with Bart, Clark points out that it's not really the speedster's style and asks if something is wrong. Bart deflects by saying he had to get a glimpse of Clark in a costume. A moment of appreciation between the two is broken up by a call from Chloe at Watchtower. She tells them that a situation with art thieves in Paris has arisen and, as they don't have any agents in Europe as of yet, they are the two closest to respond. They make another wager over who can get there first. Bart gives Clark a head start and his friend bolts into the sky. As he prepares to run, Bart hears an ominous voice call his name. He looks around but sees nothing but the locals. Tapping into the Speed Force, he runs after the Man of Steel.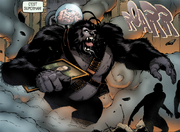 Lex visits Psimon in Hyper-Solitary on Stryker's Island. LexCorp technicians have attached a helmet to him that emits a psionic dampening field to keep him in check. Lex has them lower the field slightly so that he can have Psimon search his mind to pull out any thoughts or memories that might still exist before they were wiped. Psimon is able to see Tess' consciousness and she motions for him to keep quiet. Instead of offering anything useful, the criminal chides Lex for being "an animal" and "a monster." Lex retreats.
At the Musée du Louvre in Paris, Superman and Impulse arrive to help the French police with a chaotic scene, baffled at the threat art thieves are presenting. Suddenly, a huge explosion racks the front of the museum. Out of the rubble runs Monsieur Mallah, a giant gorilla carrying the Mona Lisa. In a container slung around Mallah's back is the brain of the scientist who increased Mallah's intelligence to genius levels. The two lead a gang of monkeys and apes stealing art.
As Impulse attends to the smaller primates, Superman turns his attention to Mallah and the Brain. The Brain can speak through the container and Superman asks if he is Mallah's. Brain explains that they are lovers and helped each other escape from the experimentation that led to their current states. They plan to sell the stolen art to fund and form their own nation. Mallah pulls a gun and fires at the crowd.
Impulse runs to catch some of the bullets but sees there are too many. He taps into the Speed Force to move faster and is able to stop all of the projectiles. Using the Force, though, brings on the mysterious voice again. In Speed Time, Bart sees a dark creature run out of the Force that he's seen before, telling him that "It is time." The creature bolts toward Bart, reaching out to grab him.
Meanwhile, Superman uppercuts Mallah off of his feet, knocking him out. He turns to find the other monkeys and apes massing toward him. Winding his arms up and bringing his hands together in a superclap, Clark uses the force and the sound of the clap to upend all of the primates and knock them unconscious.
Clark finds a tired and scared Bart on his knees, muttering that "it" almost got him. Looking around the scene, Clark asks what Bart is talking about. Realizing the creature is nowhere to be found -- and wanting to keep the secret to himself -- Bart tells his friend it was nothing.
Title
Coming soon...
Continuity
Coming soon...
Variant Covers
References
↑ Information Attack! Smallville Season 11 Issue 9 DC Comics Blog