Smallville Torch

Newspaper



Field
Print media
Industry
Mass communication
Management
Chloe Sullivan (Former Editor in Chief)
Location
Smallville
Status
Operational
The
Smallville Torch
is
Smallville High School
's newspaper, often referred to as the
Torch
. The paper reports on the news around the school and the town of
Smallville
.
Staff
While attending Smallville High, Chloe Sullivan was the editor of the Torch. Chloe Sullivan considered the paper her pride and joy, and the Torch was a big part of her identity. Especially during Chloe's freshman year, it was the only place where she could interact with her fellow reporter and love interest, Clark Kent.
In addition to Clark Kent, other reporters for the Torch included Pete Ross (sports columnist) and Lana Lang. Lois Lane reluctantly started writing for the Torch in Season 4. Zoe and Clayton, the new Torch reporters, now run the Torch, doing things like taken up the Wall of Weird legacy and making it viral.
Former Torch staff have a long history of becoming psychotic and committing murder:
History
The Torch was burned down by Coach Walt Arnold during Chloe's freshman year (Hothead). It was eventually rebuilt, and Lex Luthor donated computers for a new computer lab at the Torch (Craving). The Torch was again wrecked by Eric Marsh to get back at Clark (Witness). Eventually Lionel Luthor seized the computers back to get Chloe Sullivan's hard drive, revealing that the computer had not been donated but leased (Delete).
Wall of Weird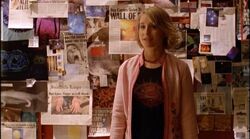 The Wall of Weird was a mural made of magazine and newspaper articles detailing the strange and bizarre things happening as the result of the 1989 meteor shower. It started out as a scrapbook that Chloe Sullivan kept but she eventually began to hang the articles up in the darkroom of the Torch office. She later took down the Wall of Weird. Even after it was dismantled, Clark and Chloe would sometimes speculate on whether or not strange events were "Wall of Weird material". [citation needed]
Issues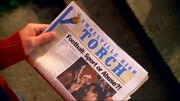 The
Smallville Torch
website was regularly updated during the time Clark and his friends attended Smallville High School. It currently remains defunct, but many back issues can sometimes be viewed on the UK-hosted site.
Season One
Season Two
Season Three
Season Four
May 19-Jun 2, 2004, Volume 53 Issue 22- Junior Year wrap-up. Bidding goodbye to Lana as she departs for Paris, 22 Things Chloe learned that year, Smallville's sister city in Spain.
See also
Chloe Sullivan- Editor and reporter of the paper.
Torch poll- a poll conducted by Chloe her freshman year, detailing the students' deepest desires.
Clark Kent in Smallville

| | |
| --- | --- |
| Family | Kents: Martha , Jonathan • House of El: Jor-El (ai, clone), Lara, Kara, Zor-El, Conner Kent |
| Relationships | Chloe • Pete • Oliver • Emil • John Jones • Lex (destiny) • Lionel • Brainiac • Jimmy • Tess • Davis • Zod |
| Romantic interests | Chloe Sullivan • Lana Lang • Kyla Willowbrook • Alicia Baker • Lois Lane (destiny) |
| Work | Smallville Torch • Justice League • Daily Planet |
| Details | Powers (loss, vulnerabilities, training) • secret • attire • glasses • blood • fighting style |
| Homes | Krypton (knowledge) • Kent Farm (house, cellar, barn, loft, truck) • Fortress • Apartment (telescope) |
| Other | Kal • Kal-El (ship) • Superman (suit, crest) • aliases • destiny • vision • No tights, no flights • Near-death experiences • Episodes |
External links
Ad blocker interference detected!
Wikia is a free-to-use site that makes money from advertising. We have a modified experience for viewers using ad blockers

Wikia is not accessible if you've made further modifications. Remove the custom ad blocker rule(s) and the page will load as expected.