Home
Talk

389
1,728pages on
this wiki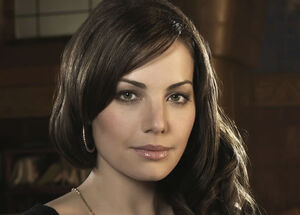 Lois Lane is a renowned reporter working for the Daily Planet, Clark Kent's fiancee, and the bold outspoken cousin of Chloe Sullivan. Prior to that, she was a waitress at the Talon, campaign manager for Jonathan Kent when he ran for Kansas State Senate and chief of staff for Martha Kent a U.S. Senator for Kansas, and a reporter for the Metropolis Inquisitor.
Since living at the Kent Farm for most of what should have been her freshman year of college, Lois has grown quite close to the Kents, even seeing Martha Kent as the mother she never had. Her relationship with Clark was initially full of teasing that sometimes got the best of them; however, they also looked after each other and offered each other advice. Eventually Lois and Clark became each others' closest friends outside of Chloe, but their teasing continues without fail.

June 14th, 2013: Man of Steel opening, starring Henry Cavill as Superman with former Smallville alumni guest star Amy Adams in the iconic role of Lois Lane. Other Smallville guest stars appear in the film such as Mackenzie Gray as kryptonian Jax-Ur and Alessandro Juliani as a military sergeant. [1]


What is your favorite season finale?

Create blog post
Hot off the Press
I Seriously welcome detailed pages on each episode.





thank you Editors..

Read more >

Hey I'm new to the Smallville Wiki well I've been here Alot but I've just read the Articles.So I realized Superman Wiki doesn't have a Chat no one is ever at Batman wiki chat (So it basically serves …

Read more >

I was wondering does anybody know what episode in Season 5 did Clark end his friendship with Lex. Cause i can't remember.

Read more >
See more >

This site is a free Wikia encyclopedia that anyone can edit. All trademarks and copyrights belong to their respective owners, and are used here under the terms of Fair Use. All images and videos © copyright of The CW Television Network. Please see Wikia:Licensing for details of the licensing on this wiki. Pages on the Smallville Wiki are best viewed on a 1024x768 screen resolution.
Related Wikis