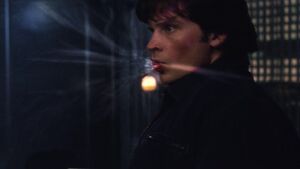 Super breath is the ability to blow objects away or pull objects towards oneself with highly compressed amounts of air.
Characters with super breath
Clark Kent
Clark Kent first developed this ability when he got sick after escaping the Phantom Zone. He later learned to use the ability consciously, first blowing a wall down and then later putting a fire out with his breath. (Sneeze)
He also learned how to control the intensity; he used it to simply blow some papers around to distract Dr. Robert Bethany, allowing Clark to steal his laptop. (Freak)
Clark later used his super breath to smash open a door in order to save Lois. (Committed)
Kara Kent
Appearances
See also
Ad blocker interference detected!
Wikia is a free-to-use site that makes money from advertising. We have a modified experience for viewers using ad blockers

Wikia is not accessible if you've made further modifications. Remove the custom ad blocker rule(s) and the page will load as expected.