"Able to leap tall buildings in a single bound." – Lois Lane, to Clark Kent, Crimson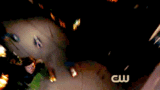 Super leaping is the ability to jump extreme distances, vertically and even horizontally.
Before the second half of series finale, Clark couldn't maintain flight, instead, he combine his super strength and super dexterity to perform highly accurate super leaps.
Clark first demonstrated a small degree of this ability while he was playing basketball, though he jumped his first vast distance to save his mother, displaying great hesitancy; since then, he has shown increasing amounts of confidence and control over his super leaps.
But now that he can fly, it's highly inferred that he doesn't use it anymore.
Characters with this ability
Appearances
Notes
It is interesting to note that the canonical introduction of the Golden Age Superman showed that he did not fly; he preformed enormous leaps. In later issues of Superman, he was given the power of flight. It could be argued that Clark Kent on Smallville is simply following canon.
See also
Ad blocker interference detected!
Wikia is a free-to-use site that makes money from advertising. We have a modified experience for viewers using ad blockers

Wikia is not accessible if you've made further modifications. Remove the custom ad blocker rule(s) and the page will load as expected.