Super strength is the ability to exert or apply above-human amounts of force to people and objects.
Kryptonian Super Strength
Kryptonian super strength manifests almost instantly after exposure to an environment under a yellow sun. Kryptonians can lift or move probably anything, being one of the strongest aliens in existence. Doomsday and Aldar can simply overpower and kill Kryptonians. Basic Kryptonians, and even Clark, are rendered completely helpless and powerless against General Zod or Faora. Darkseid's strength, as the darkness in all the people on Earth grew, was significantly magnified to the point where he could fight with Kryptonians.
In the Kawatche legend, the First Nation people declared that Naman, a being that fell from the stars, has the strength of ten men.
Characters with Super Strength
Kryptonians
Clark Kent - This ability first manifested when he was younger but displayed enhanced strength after the Kent's picked him up from the cornfield. Clark now can easily lift billions of tons as seen when he pushed back Apokolips (a planet rivaling Saturn in size) into space very quickly. Also, he can break and destroy anything on Earth. When this ability first manifested he was able to put holes in walls and break small tables at age 3. He was a toddler when this ability first manifested.

Clark Luthor - Clark Luthor is extremely strong, and as such, he can overpower and kill humans and metahumans, as he is as strong as Clark.
Kal-El - Kal-El was way stronger than Clark.

Conner Kent - Conner is not as strong as a fully-developed Kryptonian, but can easily overpower and kill human and metahumans and lift heavy machinery, i.e. tractors.
Kara Kent - Kara is greatly stronger than virtually anything in the universe, except Clark, Jor-El, Zor-El, Zod, Faora, Davis, Aldar and Doomsday.
General Zod - Zod was extremely strong, Clark was completely powerless and helpless to defend himself against Zod. He is one of the four strongest Kryptonians to appear.
Faora - Faora was extremely strong, she nearly immobilized Clark with one punch. She is one of the four strongest Kryptonians to appear.
Jor-El - Jor-El was extremely strong, much stronger than Clark. He is one of the four strongest Kryptonians to appear.
Disciples of Zod - They both were superhumanly strong and could easily overpower and kill humans, but they were so much weaker than Clark that they didn't even try to fight him, and instead just tried to trap him in the Phantom Zone.
Zor-El - Zor-El could pick up or destroy anything of Earth origin with his strength, and could overpower Kara, but needed to depower Clark to approach him.
Raya - Raya was incredibly strong and could overpower and kill humans, and could lift extremely heavy objects.
Davis Bloome - In human form, Davis could snap and crush humans with barely any effort, and as Doomsday, could effortlessly overpower and kill Kryptonians.
Alia -
Aliens
Metahumans
Other
In the Comics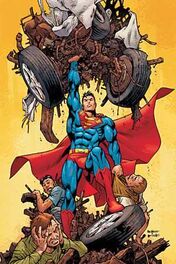 In the comics, super strength, or superhuman strength, is a very common ability amongst heroes and villains. Superman is extremely strong, and ranked as one of the strongest beings in the entire universe, mainly because his power exertion potential is almost infinite. Bizarro is very strong as well, often classing as being of the same strength as Superman, although he is sometimes said to be a bit stronger than him. Doomsday is extremely strong, and because he was made to hate and despise the Kryptonian race, he can overpower and kill full fledged Kryptonians. J'onn J'onzz is very strong, almost as strong as Superman; his strength comes from his plasmorphic structure formed from immensely long and complex molecular chains. Darkseid is also extremely strong, possessing colossal strength, and as such, he can overpower humans and most aliens with his might.
See also
References
Ad blocker interference detected!
Wikia is a free-to-use site that makes money from advertising. We have a modified experience for viewers using ad blockers

Wikia is not accessible if you've made further modifications. Remove the custom ad blocker rule(s) and the page will load as expected.