About Me
I'm 19 years-old, and am a huge fan of Smallville. I'm an athlete, a writer, as well as an artist, and am a huge reader nowadays. Here, I will mainly focus on making this wiki better through constant and deticated editing that is only canon-related, though I may add some logical but still speculation nonetheless to article talk pages As a regular user, I would really like to get to know the users of this wiki including the adminastration team, the regular contributors, and even the minor contributors.
I currently own Seasons 1, 7, and 9 on DVD. I have seen every episode of every season, and have enjoyed them all, but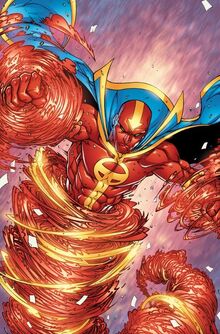 in all honesty, I, as you can see under the heading with my eps under it, like episodes that are about Kryptonian objects, and with Jor-El, and Clark, and stuff about Naman and the Kawatche people and caves. I must admit though, the eight season was the worst by a lot!
I currently contribute to other wikis widely including Harry Potter wiki, Star Wars wiki, DC and Marvel wiki, Super-Wiki and Supernatural wiki. Personally, I think Marvel as having more concrete characters than DC does, I mean, take The Flash for example, there's like at least 5 of him, and the way I see it, you don't need that much, whereas Marvel has (I'm proud to say) a legit purpose for their characters, as you don't see like 7 Galactus' running around; they're more structured. My all-time favorite superhero is Spiderman. I also like Superman, Martian Manhunter, Silver Surfer, Incredible Hulk/Green Scar, Magneto, Bizarro, Loki, Galactus, Venom, Darkseid, Thor and Wolverine.
As far as "real", non-animated, super-hero movies go, I'll be blunt here, I've seen Hulk, and the remake of it called The Incredible Hulk, IronMan, and its sequel IronMan 2, Superman Returns, and also Batman Begins, and its sequel The Dark Knight, The Fantastic Four, and its sequel Rise of the Silver Surfer.
Pesonally, I like to use many different websites to obtain great pictures, particualry http://www.unspoken-want.net/SVCaps.html.
Favorite Writers of Smallville
My best Fanfiction blogs
My favorite articles
Articles I've created
My favorite quotes from Smallville
My thoughts on the seasons
The bold underlined ones are my top ones.
Season One - They did a great job putting the first season together!
Season Two - An okay season, though I wanted a bit more.
Season Three - A total knock-out, thrilling, chair-gripping season; gets two thumbs up!
Season Four - An okay season, but it, at least to me, was too much, as it focused on possession too much...
Season Five - A great season overall.
Season Six - The best season ever up there with the tenth season!!
Season Seven - A decent season, though definitely not what I pictured.
Season Eight - Three Words: Worst Season Ever! I did, however, enjoy 4 episodes of it, but that was about it.
Season Nine - Much better than season eight, and a little better the the seventh season, and I'll admit, it had some good episodes.
Season Ten: The best season ever up there with the sixth season!!
My favorite characters
Major
Jor-El (A dick throughout his interactions with people, but he's soooooo powerful)
Clark Kent (The Man of Steel, you gotta love him...)
John Jones (I mean, who couldn't like him, he's the sole survivor of Mars, and is basically Superman plus a whole lot more)
Jonathan Kent (What to say... oh yeah, the ideal father figure!)
Lionel Luthor (after he becomes a changed and new man)
Minor
Top most dangerous/powerful entites to appear on Smalllville
Jor-El; he is virtually un-killable because he's just memories, a mere spirit, thus he is not tangible, therefore he can't be killed, only shut down.
Davis Bloome/Doomaday; he can easily overpower and even kill full fledge Kryptonians
Aldar; he was able to destroy humans' structures and overpowered Clark
Clark Kent/Superman; he has virtually unlimited power and strength
BizarroClark; he can overpower martians and is a match for Clark
John Jones; he possess most if not all of Clark's powers and more other powers as well
Darkseid; he is extremely powerful, not to mention very influential on humans and even aliens.
My favorite objects
My favorite themes
Allusions and nods to the DC universe and realm.
Kryptonian objects, artifacts, runes, markings, and vessels
Kawatche caves; tale of Naman and Sageeth
My favorite alien abilities
Top 2
Others
My favorite episodes
1-10 STARS
Season 1:
STARS(3)
Season 2:
STARS(3)
Season 3:
STARS(8)
Season 4:
STARS(4)
Season 5:
STARS(9)
Season 6:
STARS(10)
Season 7:
STARS(6)
Season 8:
STARS(1)
Season 9:
STARS(7)
Season 10:
STARS(10)
Favorites
Smallville
Heroes
Villains