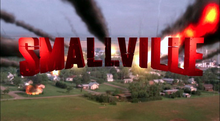 Geek in the Heart
What I would like to see from future issues
Edit
Lana Lang, without powers. DONE
More speedsters (Barry Allen, Wally West and Jesse Chambers or Iris West).
The return of Bart Allen and revelation of his origin. half-DONE
Wonder Woman. DONE
Mia Dearden as Green Arrow's sidekick (Speedy/Arrowete/Red Arrow). DONE
A teen-JLA (Teen Titants DONE/Young Justice/Outsiders) with members: Superboy DONE, Nightwing, Speedy DONE, Miss Martian Done, Blue Beetle DONE and more new DC characters.
New Krypton. DONE
Crisis of Infinite Earths.
A new body for Tess Mercer, maybe a cyborg.
New members in the Justice League.
Chloe's son (Connor Hawke).
Exploration of Tess's relationship with Emil Hamilton.
Kara 's return to present time.
Superboy meets Supergirl.
Jimmy Olsen 's (real one, who showed up in Finale) return.
New Gods (Orion, Mr. Miracle, Big Barda and more) of Genesis and more Apokoliptans.
Brainiac 's (villain) return, seperated from Brainiac 5.
Brainiac 5 DONE, Zod, Faora DONE, Doomsday DONE, Pete Ross, Legion of Super-Heroes DONE, new Injustice League/Gang, Bizarro, Martha Kent, DONE Lucas Luthor, Alan Scott, Amanda Waller and many more to return.
Ursa and Lor-Zod as Zod's dead first wife and son.
Tess' adoptive parents (maybe a version of Cassy Griggs as her father) and maybe a new love interest for her (Jeff Colby, her husband from Silver Age).
Green Arrow and Black Canary together.
Clark Luthor 's return.
Crime Syndicate.
A more of an anti-hero version of Supergirl from Earth-2 (Powergirl/Karen Starr).
Green Lantern (Hal Jordan/John Stewart/Kyle Rayner/Guy Gardner/Simon Baz), Green Lantern Corps and more.
My favorite pages
Edit